Science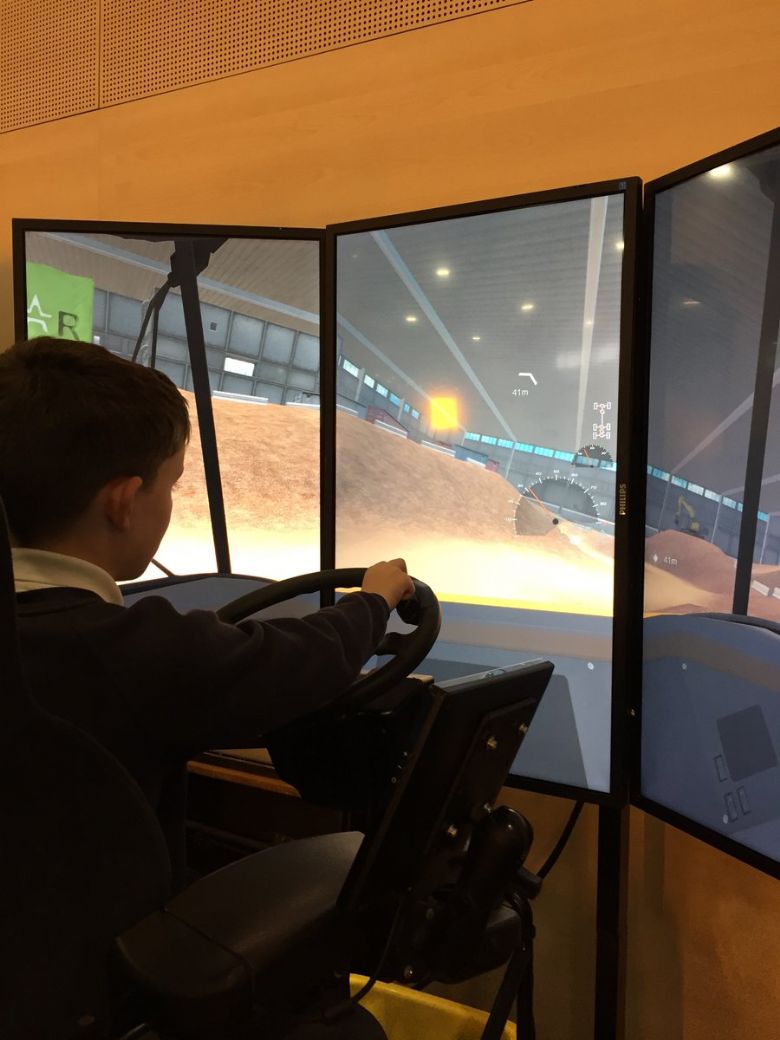 Learning to drive a dumper truck at Bring it On! engineering exhibition
Rationale
The study of science fires pupils' curiosity about phenomena in the world around them and offers opportunities to find explanations. Pupils develop their scientific skills in order to extend their understanding of the scientific method. They also discover how scientific ideas contribute to technological change – affecting industry, business and medicine and improving quality of life. They trace the development of science worldwide and recognise its cultural significance. They learn to question and discuss issues that may affect their own lives, the directions of societies and the future of the world. Developing scientific knowledge and skills is an important part of a well rounded education for all pupils
Aims
Develop in all pupils a scientific appreciation of their environment and the contribution Science makes to society
Progressively introduce pupils to the methods of scientific enquiry with due regard to safety
Promote an understanding of a wide range of scientific topics.
Support and encourage an interest and enthusiasm for the study of science
Improve the scheme of work to cover all the requirements of the national curriculum in Science using ICT and cross curricular links where appropriate
Provide a continuous and progressive Science education, appropriate to each pupil including the transition stages of first school and high school feeders
Develop pupils critical thinking skills in order to become independent learners
Provide many opportunities in lessons for team work, allowing pupils to apply themselves with interest and enthusiasm so they achieve their full potential. Give pupils the skills to be self reflective, monitoring, evaluating and assessing their own progress.
Curriculum
The principal focus of science teaching in upper key stage 2 is to enable pupils to develop a deeper understanding of a wide range of scientific ideas. They are encouraged to do this by exploring and talking through their ideas; asking their own questions about scientific phenomena; and analysing functions, relationships and interactions more systematically. In key stage 3, pupils will continue to develop their scientific knowledge in the 3 core areas: Biology, Chemistry and Physics, as well as extending their investigative skills, in order to apply their understanding to these topics.
Organisation
In Keystage 2 science is taught in form groups so they are mixed ability classes. There are three one hour lessons provided in the timetable. One out of the three of these hour sessions is timetabled for the Lab, to give experience to the younger pupils of a scientific environment.
In Keystage 3 science is taught in ability sets. There are two high ability sets - G and R groups, two middle sets – O and U groups and one lower ability set – P group. Pupils are given four, one hour sessions per week and all classes are taught in a Science Lab.
Topic Overview
Autumn

Spring

Summer

Year 5

Safety

Keeping Healthy

Sound and light

Earth, Sun and moon

Living things, Classification and keys

Variation/ Adaptation

Food chains and webs

Pyramids of biomas

Plants and Photosynthesis

Lifecycles

Reproduction/ Hygiene

Year 6

Safety

Forces/speed/Distance time graphs/ Springs/Hookes Law

Electricity and circuits

Separations and solutions

Solids, Liquids and Gases/ changing states/ Water cycle

Reversible/ irreversible

Materials and their properties

Energy , global warming, recycling

SAT revision

Desert Island

Microbes and disease

Microscopes

Bunsen Burner

Year 7

Safety

Forensic science

Particle model of solids liquids and gases

Acid and Alkali

Momentum/ turning force

Pressure

Sound and Light

Body systems/ cells

Respiration

Plant and photosynthesis

The atmosphere/ global warming/ recycling

Earth science/ Carbon cycle/ Nitrogen cycle

Outdoor Science

Year 8

Safety

Reproduction

Sex Education

Genetics and Inheritance

Food and Digestion

The Heart and circulation

Atoms and elements

Compounds and mixtures

Patterns of reactivity

Heating and cooling

SATs revision

Microbes and disease
Resources to support your child's learning
Any KS2 and KS3 Revision guide (CGP is one used at school)