Science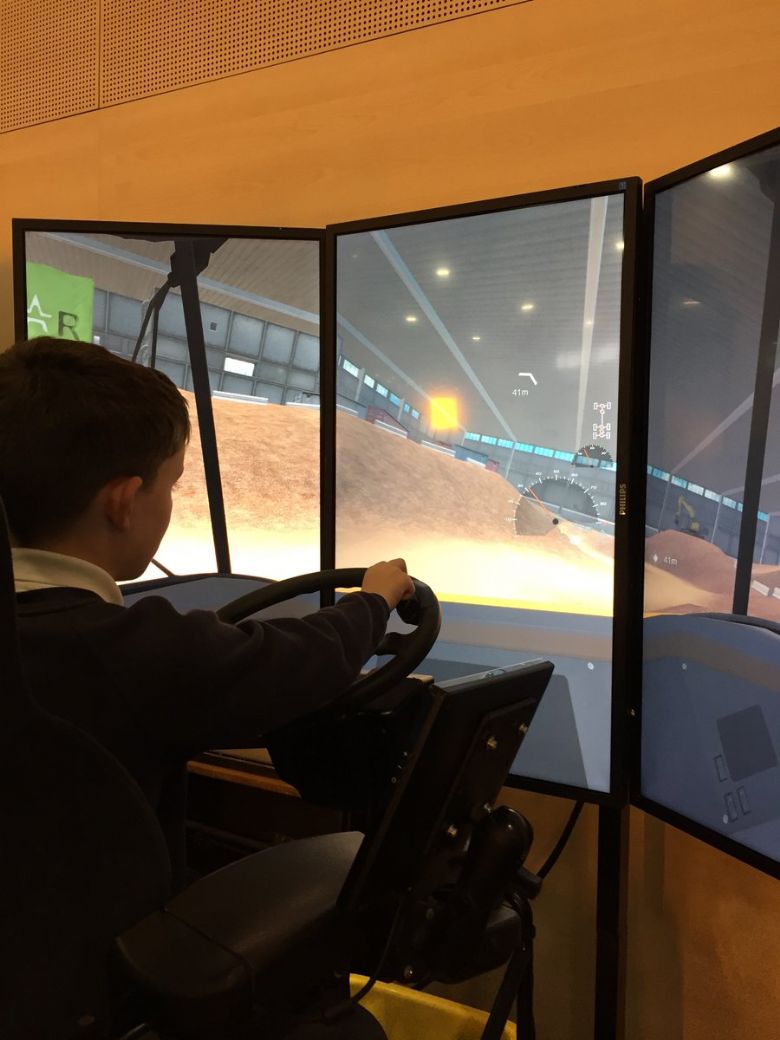 Learning to drive a dumper truck at Bring it On! engineering exhibition
Rationale
GEMS Science curriculum is designed to fire pupils' curiosity about the world around them and offers opportunities to ask questions, investigate and find explanations covering a varied range of science topics.
Students learn to question and discuss issues that may affect their own lives, the directions of societies and the future of the world. Developing scientific knowledge and skills is an important part of a well-rounded education for all pupils.
Aims
Develop in all pupils a scientific appreciation of their environment and the contribution science makes to society.
Progressively introduce pupils to the methods of scientific enquiry with careful regard to safety.
Promote an understanding of a wide range of scientific topics.
Support and encourage an interest and enthusiasm for the study of science
Periodically review the scheme of work to cover all the requirements of the national curriculum in Science using ICT and cross-curricular links where appropriate.
Provide a stimulating, challenging, progressive and inclusive science curriculum, appropriate to each pupil including the transition stages of first school and high school.
Develop pupils' critical thinking skills in order to become confident, inquisitive and independent learners.
Provide many opportunities in lessons for team work, allowing pupils to apply themselves with interest and enthusiasm so they achieve their full potential.
Give pupils the skills to be self-reflective, monitoring, evaluating and assessing their own progress.
Create a fun, creative, imaginative and engaging curriculum where every child can excel and enjoy their own learning journey.
Curriculum
In upper Key Stage 2, science lessons are structured to allow pupils to develop a deeper understanding of scientific ideas and theories. Pupils are encouraged to ask questions, explore their ideas and discuss their findings. The scheme of work is also designed to develop practical investigative skills, stimulating and challenging all pupils to reach their full potential.
Teaching and learning in Key Stage 3 is focussed around the three separate sciences - biology, chemistry and physics. The programme of study is designed to help pupils form connections between these subject areas and become aware of the links between science and other subjects through scientific knowledge and understanding. Pupils will continue to build on the foundation they have created in upper key stage 2 to further develop their own understanding of how science impacts on the constantly changing and developing world around them.
Organisation
In Key Stage 2, Science is taught in form groups which are mixed ability classes. There are three one-hour lessons provided in the timetable. In year 5, pupils are taught in the classroom, year 6 pupils are taught by specialist science teachers in the laboratory for all lessons.
In Key Stage 3 Science is also taught in mixed ability groups. Pupils are given four, one hour sessions per week and all classes are taught in a Science Lab by specialist science teachers.
Resources to support your child's learning
CGP revision guides (KS2 & KS3)
BBC bitesize learning www.bbc.co.uk/bitesize
Frogplay www.frogplay.net/my/login
Educake www.educake.co.uk
Extra-curricular opportunities
Science club – runs every Tuesday lunchtime and every Thursday after school until 4.20pm (Starts after Autumn half term).
Scifair 2021 – An opportunity for pupils in year 7 and 8 to submit their own scientific investigations and ideas in a competition run by Newcastle University.
GEMS Science Fair – coming soon! A school-run version open to all pupils - to be held during British science week March 2022.
British Science Week – celebrating science innovation and discovery, to be held between the 11th and 20th March 2022. The theme will be 'Growth', for more information, visit https://www.britishscienceweek.org/
Topic Overview
Autumn

Spring

Summer

Year 5

Safety

Changes of State

Simple Separation

Materials

Reversible/Irreversible Processes

Earth Science

Earth and Space

Simple Electricity

Life Cycles

Living Things and Habitats

Animal Classifications

Food Webs

Year 6

Safety

Materials

Complex Separating

Dissolving

Bunsen Burners

Chemical Composition of the Earth

Forces

Light

Life Processes

Adaptation

Variation

Evolution

Year 7

Safety

Heating and Cooling

Energy

Earth and Space

Chemical Reactions

Particle Model of solids, liquids and gases

Acids and Alkalis

Forces

Light

Body Systems and Organs

Cells and Microscope

Photosynthesis

Respiration

Year 8

Safety

Forces

Energy

Electricity

Earth Science and the Rock Cycle

Chemistry

Atoms and Elements

Compounds and Mixtures

Reproduction and Genetics

Food and Digestion

Respiration

The Heart and Circulation