Reading for Pleasure
SPRING TERM
Here are GEMS recommended reads for this term!
The Butterfly Club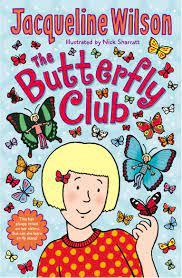 On my birthday, I got a Jacqueline Wilson collection and one of my favourite books from it is called 'The Butterfly Club'. I think it is suitable for Year 5 and 6.
It is about a girl called Tina and she has two sisters called Phil and Maddy. She makes a butterfly garden with the class bully called Selma, who soon becomes Tina's best friend.
What I liked about it was it had good characters and it had a happy ending and I like a happy ending. It also had a lot of adventure in it, and I also like adventure stories.
By Eliza, Y5.
'Wave Me Goodbye' by Jacqueline Wilson is about a girl named Shirley who was 10 years old when World War 1 happened. She got evacuated at a young age and people told her it will be a 'little holiday'. A lady called Mrs Winderly looked after her, with two boys called Kevin and Archie, but Shirley didn't like them. She missed her parents so much and would write letters to them every day. It is an emotional book but it's great for Year 7 pupils who love historical fiction.
By Mandana, Year 7.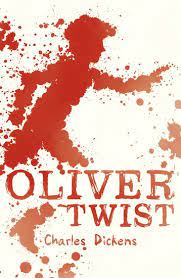 'Oliver Twist' by Charles Dickens
Oliver Twist is brilliant to read because you can never really guess what is going to happen next, so it is very thrilling. The plot twists take excitement in reading the book to a whole new level - it's like the book is a firework that is about to explode, you feel so scared but so excited to see what is going to happen next.
Jamie, Year 8.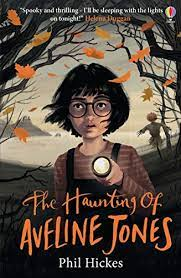 'The Haunting of Aveline' Jones by Phil Hicks (available from the school library)
If you try this book, you are in for a treat! I know that this is a cliché, but it really is a 'page turner' -especially the final section of the novel when it reaches a deliciously horrifying climax. The book tells the story of Aveline, a lover of everything ghostly, who goes temporarily to live with her aunt in a rather creepy seaside town. She buys a book from Mr Lieberman's shop and her adventure begins. Not for the faint hearted…read it if you dare!
Mrs Leahy
Book Trust
The Book Trust have a bookfinder quiz and they suggest books based on authors or a series of books that children have enjoyed.
Follow the links below:
Bookfinder Quiz
https://www.booktrust.org.uk/books-and-reading/bookfinder/
What to read after…
In the search bar type 'What to read after …….' and insert favourite author or series title to find recommendations. https://www.booktrust.org.uk/search/#!?q=what%20to%20read%20next&type=All&sortOption=Relevance&pageNo=1
Book Clubs
We have popular book clubs that meet each week in school. Children should see Mrs Leahy for further details.
A New Chapter Reading Challenges
https://www.anewchapterbooks.com/