Reading for Pleasure
SUMMER TERM
We love reading at GEMS!
Spooky Season
Things were spooky in the library this week.
Our spine-chilling books were flying off the shelves!
We Love our Library!
"It's a nice place to come and relax. I came in for break time because I had a headache and it went away." Isla 5SC
"I love reading in the library because it has the best Reading Champions and it's very cosy" Emily G 5ER
"This library is amazing. It's the best place to chill with your friends. You can draw but the best thing is you can read. Also you can talk very quietly… shh! Sometimes Miss McFall has really calming music noises. She also has nice cosy blankets. It's the BEST." Poppy 5ER
"The reason why people should come to the library is because when they're having a bad day, they could come to the library, it might cheer them up" Emily C Y8
Meet our Reading Champions
In September, our new Reading Champions were elected. Reading Champions are year 8 students who help in the library during break times and lunch times. Come in and say hi!
Our Reading Champions and what they are currently reading:
Elizabeth – Have Pride by Stella A. Caldwell
Emilia – The Girl Who Stole an Elephant by Nizrana Farook
Imogen – Heartstopper volume 4 by Alice Oseman
Lauren – Heartstopper by Alice Oseman
Olivia – One of Us is Next by Karen M. McManus
Livvy – Divergent by Veronica Roth
Aaliyah – Avery Large Expanse of Sea by Tahereh Mafi
Somaya – Boy, Everywhere by A.M Dassu
Hollie – currently reading When Life Gives you Mangos by Kereen Getten
Isabelle – The Enemy by Charlie Higson
Jos – Lord of the Rings by J. R. R Tolkien
Library Dog Competition Results
Everyone had the chance to take part in naming our jazzy new library dog. The votes are in, the winning name is… drum roll please... Sparkle! Well done to our winner, Immie 5SR, what a brilliant name for a much-loved pooch.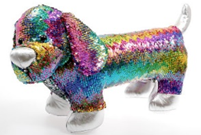 Library Clubs
Spider-Man Club On Wednesday mornings before school, we share our interest in one of our favourite superheroes. We listen to audio books, read poems, short stories, create our own comics and much more!
Cosy Club We meet in the library before school once a week to explore different ways of feeling comfortable when reading. We choose a relaxing background sound and once comfortable and settled, we have a quiet session of reading our own books.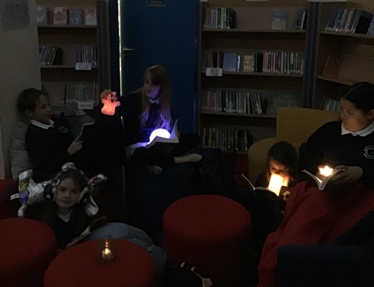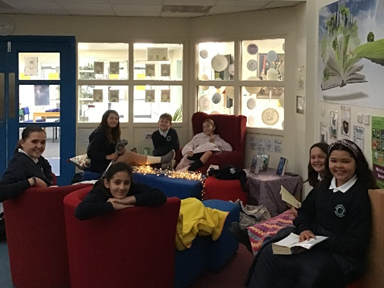 Reading Club with Mrs Leahy
Mrs Leahy meets with her reading club groups once a week in the library. In the comfortable reading corner, interesting and insightful thoughts are shared and discussed.
Recent Visit
Year 5 recently visited The Theatre Royal to see the author Frank Cottrell-Boyce. All pupils received a copy of his new book! On the way home, any children were so keen to read that copies were opened while waiting for the metro back to school - fantastic!
Autumn Book Fair
Exciting news! Our Scholastic Autumn Book fair is arriving on Monday 7th November.
Be sure to come along to our pop-up school book shop!
Competition Time!
Will you be one of our lucky winners?
The Prize: £5 voucher to spend at our upcoming Autumn Book Fair (there will be five winners!)
How to Enter: Take a photo of yourself reading in an unusual place. Hand it in to Miss McFall or email it to: admin@gosfortheast.newcastle.sch.uk
Closing date: Wednesday 2nd November
Good Luck!