PSHCE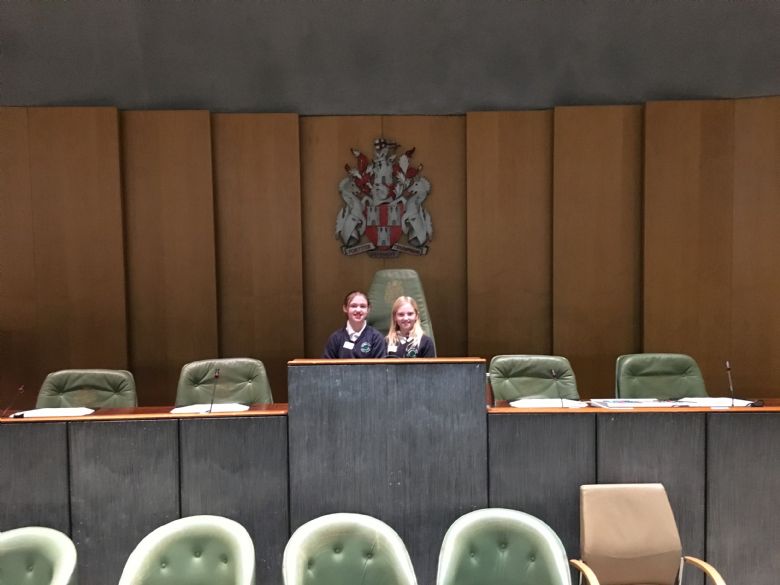 Trying out the Lord Mayor's seat at Newcastle Civic Centre
PSHCE is a valued part of the curriculum at Gosforth East Middle School as it allows students to express their views on a wide range of topics that either affect them currently, or may do so in the near future. It encourages them to think about how they fit into their community and what kind of impact they are having.
Purpose
The national secondary PSHCE programme covers 3 core themes, and these allow students to know:
HEALTH AND WELLBEING
how to manage transition
how to maintain physical, mental and emotional health and wellbeing including sexual health
about parenthood and the consequence of teenage pregnancy
how to assess and manage risks to health and to stay safe, and keep others safe
how to identify and access help, advice and support
how to make informed choices about health and wellbeing matters including drugs, alcohol and tobacco; maintaining a balanced diet, physical activity, emotional health and wellbeing and sexual health
how to respond in an emergency including administering first aid
the role and influence of the media on lifestyle
RELATIONSHIPS
how to develop and maintain a variety of healthy relationships within a range of social/cultural contexts and to develop parenting skills
how to recognise and manage emotions within a range of relationships
how to deal with risky or negative relationships including all forms of bullying and abuse, sexual and other violence and online encounters
about the concept of consent in a variety of contexts (including in sexual relationships)
about managing loss including bereavement, separation, and divorce
to respect equality and be a productive member of a diverse community
how to identify and access appropriate advise and support
LIVING IN THE WIDER WORLD
about rights and responsibilities as members of diverse communities, as active citizens, and participants in the local and national economy
how to make informed choices and be enterprising and ambitious
how to develop employability, team working and leadership skills and develop flexibility and resilience
about the economic and business environment
how personal financial choices can affect oneself and others, and about rights and responsibilities as consumers
Curriculum
The PSHCE curriculum stimulates curiosity and imagination. We aim to build upon the child's participation and debating skills by offering many chances for stduents to offer opinions. We encourage children to learn by experience and have guest speakers and various trips on offer.
Organisation
Geography is taught in mixed ability classes throughout Key Stage 2 and 3 by a team of experienced and enthusiastic staff. Pupils receive 1 hour of PSHCE a week in both Key Stages.
Autumn
Spring
Summer
1
2
3
4
5
6
Year 7
Citizenship
Relationships

Wider World

Health &

Wellbeing

Relationships
Citizenship
Year 8
Citizenship
Citizenship

Wider World

World

Health & Wellbein

Wellbeing

Relationships
Citizenship