PE & Games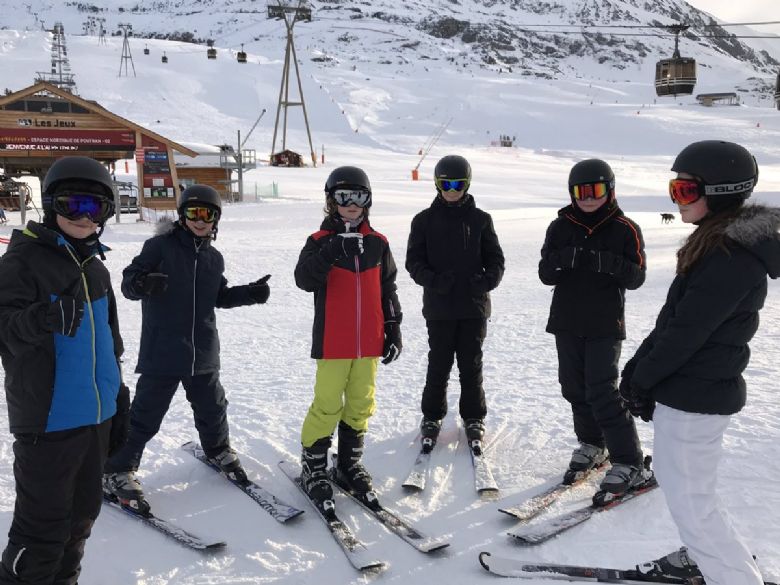 Year 8 Skiing at Alpe d'Huez
Rationale/Aims
Regular physical activity can improve quality of life, improve health, promote social inclusion, raise individual self-esteem and confidence and counter anti-social behaviour. Schools play a key role in promoting active lifestyles to young people through developing their attitudes, knowledge, confidence and competence to help encourage a lifelong commitment to physical activity.
Curriculum
The national curriculum for physical education aims to ensure that all pupils:
develop competence to excel in a broad range of physical activities
are physically active for sustained periods of time
engage in competitive sports and activities
lead healthy, active lives
Organisation
At both KS2 and KS3 pupils have one lesson of PE a week in their form classes and will have a further Games lesson whereby pupils will be split into Girls and Boys groups.
Pupils are offered the opportunity to become involved in extra-curricular sports clubs such as Netball, Gymnastics, Badminton, Volleyball, Climbing, Fitness and Football to name a few.
In Year 8 some of our pupils are trained as Sports Leaders and this gives them a different perspective on P.E. It allows them to take on a different role in P.E. They learn how to take responsibility for a small group of younger pupils. Throughout the year, pupils are encouraged to take part in interclass and interschool sporting activities so there is always an opportunity for our pupils to take part in and experience a competitive environment. We aim to introduce as many different activities and sports as possible to suit all abilities and tastes throughout GEMS both within curriculum time and extra-curricular clubs.
Autumn

Spring

Summer

Year 5

Golf / Gym / Dance/ Football/ Rugby/ Fitness/

X Country

Health Related Fitness / Football/ Rugby/ Hockey/ Dance/ Gym / Athletics

Athletics / Tennis / Rounders

Year 6

Basketball / Gym / Dance / Football / Netball / Fitness/ X Country

Athletics / Rugby / Dance / Hockey/Football/Fitness

Athletics / Tennis / Rounders / Cricket/ Fitness

Year 7

Gymnastics. Football. Rugby. Netball. Hockey. X-Country, Badminton, Fitness

Health Related Fitness. Basketball. Dance

Volleyball. Hockey. Football. Athletics

Athletics, Tennis, Cricket, Tennis, Rounders

Year 8

Gymnastics/ Football/ Rugby/ Netball/ Hockey/ X-Country/ Badminton/ Fitness

Health Related Fitness. Basketball. Dance

Volleyball. Hockey. Football. Athletics

Athletics, Tennis, Cricket, Tennis, Rounders