ICT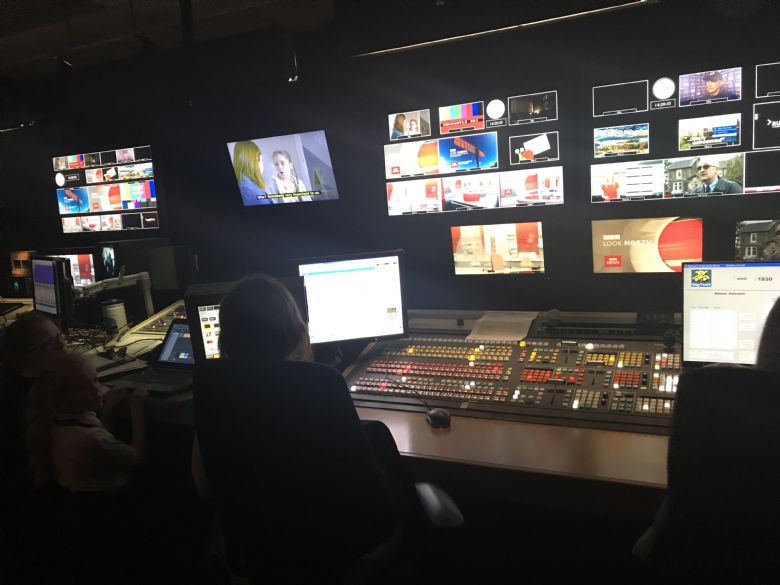 Our Press Club working the controls at BBC Newcastle
Rationale/Aims
Information and Communications Technology (ICT) is concerned with the storage, processing, presentation and communication of information by electronic means. This includes the measurement, modelling and control of external events. ICT continues to evolve very quickly and has now become firmly entrenched in many aspects of everyday life, both at home and in the workplace.
As ICT underpins today's modern lifestyle it is essential that all pupils gain the confidence and ability, that they need in this subject, to prepare them for the challenge of a rapidly developing and changing technological world. The use of ICT will also enhance and extend children's learning across the whole curriculum whilst developing motivation and social skills.
Curriculum
At GEMS our aims are that:
ICT be presented as a creative and fascinating process in which children are encouraged to use their own initiative, imagination, reasoning and investigative skills;
KS2 & 3 are introduced to a variety of Microsoft software's throughout their time at GEMS, this enables to use these skills in a cross curricular setting.
Both key stages use a variety of software to cover programming such as logo, HTML and scratch. This is enhanced with the use of Ipad apps.
Organisation
ICT – Computing is embedded in all subject areas and pupils also get a specific ICT lesson for 1 hour per week within an ICT suite.
Topic Overview
| | |
| --- | --- |
| Year 5 | Introduction to schools network, Word Processing, Graphic Modelling, Internet safety, internet safety, ipad movie, logo control, spreadsheets, pivot and Computer Science. |
| Year 6 | Word processing, Publisher, spreadsheets, powerpoint, internet safety, Computer Science logo, Flowal, Animation, Pivot, Databases. |
| Year 7 | Microsoft software, E safety, Dance ejay, database, web design, Pivot, Binary and control, logo, Animation. |
| Year 8 | Microsoft Skills, Web Code, Scratch, Multimedia, Flash, Mission maker, Spreadsheet |
Resources to support your child's learning
Any programming Apps on Android or Ipads eg A.L.E.X and Hopscotch
Parent friendly homework
All pupils have access to www.iamlearning.co.uk, Typing skills.