English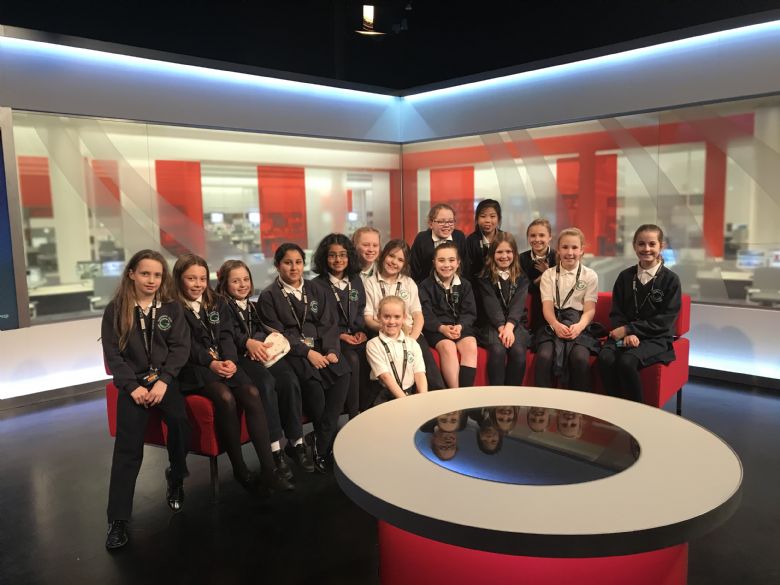 Our Press Club on a Trip to BBC Newcastle
Rationale/Aims
English is a core subject and underpins all subjects across the curriculum. It is essential that every child is taught to read fluently and understand what they read, making inferences and deductions; seeing layers of meaning; developing an understanding of the world around them and how they fit into it. Children must also be taught to write and speak with confidence for different audiences and for different purpose so that they are fully equipped to communicate their thoughts and opinions in any given situation.
Curriculum
Throughout KS2 and KS3, pupils study a variety of texts of increasing difficulty including: novels, plays, poetry, short stories and non-fiction. Texts are studied for comprehension as well as for exemplars of good writing. With this in mind, pupils analyse each texts' structure, vocabulary, and sentence types, as well as author's craft in order to improve their own writing. Spelling and grammar are also taught explicitly, and where appropriate, linked with the text being studied. Examples of texts studied include: 'There's a boy in the girls' bathroom', 'Kensuke's Kingdom', 'The Tempest', 'Millions' , 'Romeo and Juliet' and 'Holes'.
Organisation
At KS2 pupils have five lessons a week in their form classes, however, some pupils are taught in smaller group for intervention.
At KS3 pupils have four lessons a week in form classes, again, some pupils are taught in smaller groups for intervention.
Pupils have access to the Library each week for one lesson and are encouraged to have a reading book with them at all times; reading for pleasure is actively encouraged and all pupils have their own reading journal (years 6to 8), or diary (year 5).
Topic Overview
| | Autumn | Spring | Summer |
| --- | --- | --- | --- |
| Year 5 | 'The Allotment Ghost', VCOP, instructional writing, Halloween Poetry, Traditional Tales | 'There's a boy in the girls' bathroom': diary writing, play scripts, character study, analysis, Talks | 'Aquila': explanations, report writing, play, character comparisons, analysis, persuasion |
| Year 6 | Fairy Tales, 'Jabberwocky', character analysis, formal/informal writing, argument, description, autobiography, biography, persuasion | 'Kensuke's Kingdom', Poetry, advice, reading, grammar and punctuation exam practice | 'The Tempest' drama, themes in the play, Talks |
| Year 7 | 'Millions': analysis, themes, diary writing, letter writing, character comparison, story writing | 'Myths and Legends', Talks | 'The Tell Tale Heart', 'The Case for the Defence, 'Poetry: the seasons- themes, analysis, poetry writing |
| Year 8 | Women and War: persuasion, 'Holes': character analysis, drama, comparisons, themes, recounts, memoirs | 'Romeo and Juliet': sonnets, themes, analysis, letter writing; Talks | Horror, poetry, 'The Speckled Band' |
Resources to support your child's learning: BBC Bitesize, copies of class novels to read at home; reading to your child each night; listening to your child read; helping them learn their spellings (years 5 and 6); taking your child to the public library; having books in the home to encourage a culture of reading and reading over your child's homework before you sign it, encouraging your child to redraft if there are mistakes.