English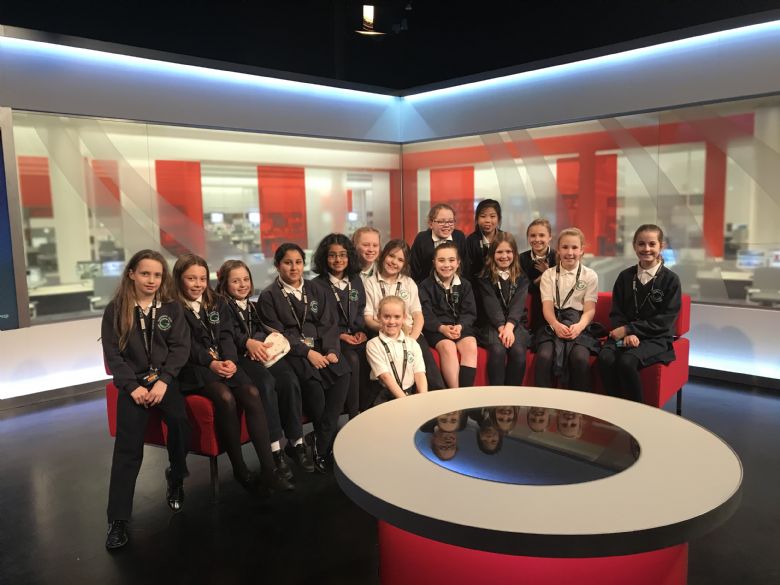 Our Press Club on a Trip to BBC Newcastle
English at GEMS
Curriculum
English is a core subject and we value its importance within the broader curriculum. Our teachers aim to secure pupils with cultural and contextual knowledge, providing learning that introduces children to ideas and events from the past, challenging them to be critical thinkers by exploring ideas about humanity through reading and to be people that value empathy to challenge how our world is and how they want it to be.
We are passionate about reading at GEMS. Throughout KS2 and KS3, pupils study a variety of texts of increasing difficulty, including novels, plays, poetry, short stories and non-fiction. Texts are studied for reading comprehension and analysis as well as being used for exemplars of good writing. With this in mind, pupils analyse the author's craft, exploring structure, language, sentence types and punctuation use in order to improve their own writing. Spelling, punctuation and grammar are taught explicitly as well as being linked with the text being studied. Pupils study at least one Shakespeare play each year at GEMS and they are exposed to a variety of texts from 19th century prose to contemporary fiction. The texts studied are frequently changed to suit the cohort, to add more contemporary texts and to address topical issues.
| | |
| --- | --- |
| KS2 | Nevermoor, Kensuke's Kingdom, Macbeth, Toro Toro, The Tempest, Butterfly Lion, Skellig, The Machine Gunners, Wolf Brother and Kensuke's Kingdom |
| KS3 | Wolf Wilder, Gothic texts, Much Ado About Nothing, Animal Farm, Oliver Twist, Pig Heart Boy, Of Mice and Men, Sherlock Holmes stories, Romeo and Julie,t Stone Cold and 19th century prose and poetry. |
Every half term pupils are exposed to high quality examples of texts and real life examples to aid the development of their writing skills. Poetry is used throughout the year in guided reading as well as exploring poems linked to the novels that are read as a class.
Pupils complete writing every half term and cover a range of creative/descriptive, narrative, instructions, persuasive, explanation, recount, report, balanced argument and poetry writing each year.
Staff have taken part in numerous training sessions in-house and from external providers, including Pie Corbett and Alan Peat, to develop the same high standard of writing across the curriculum. Pupils complete writing for a range of audiences and purposes including real life examples across subjects.
Organisation
We are proud to provide smaller class sizes in English for all pupils by teaching in mainly mixed ability groups.
Mixed ability works because our English teachers use differentiation effectively, change in-class groupings and offer a supportive class climate where all pupils are
expected to participate and engage in the challenging work set. We teach at a high level while ensuring that the work is accessible for all.
In Year 5 and Year 6 pupils are mainly taught by their form teacher in mixed ability groups with the exception of a challenge group and a nurture group in each year. Pupils access our school library one lesson per week and complete guided reading every week.
In Year 7 and Year 8 pupils have four lessons of English each week. We have six groups in each year group, mainly mixed ability, and a nurture group to support some pupils with additional needs. Pupils in KS3 visit our school library fortnightly and they complete a writing challenges to prepare them for the writing demands at GCSE level.
Assessment
In Year 5 and Year 6 pupils complete half termly tests in reading comprehension, GPS (grammar, punctuation and spelling) and a spelling test using a mix of Rising Stars assessments, Testbase, CGP and past SATs papers. Pupils complete two assessed pieces of writing each half term and they regularly do speaking and listening activities, including learning and performing poetry by heart.
In Year 7 and Year 8 teachers assess pupils' writing and assess their reading analysis skills every half term. Termly pupils complete AQA KS3 practice papers for reading and writing. Pupils enjoy drama and other speaking and listening activities and talks on heroes and challenging issues are always a pleasure to listen to.
Clubs and trips
We have book clubs for each year group and we have a press club.
Each book club meet weekly to discuss books and share their love of reading. Some of the books read include Boy in the Tower, The Nest, Smart, Looking at the Stars, Ghost Boys, Jessica's Ghost and A Monster Calls.
Press Club work with Mrs Leahy to report key events happening at our school and they produce the school newsletter each half term.
We enjoy the theatre as well as going to see writers and having authors visit us in school. Many writing and drama workshops take place and we enter the Lit Quiz each year.
Homework
Homework in KS2 includes weekly reading comprehension, grammar, punctuation and spelling homework and learning spelling rules. In the summer term, KS2 pupils learn poems by heart as part of their homework.
As pupils move to KS3, analysis skills become increasingly important. Pupils are set reading, grammar, punctuation and spelling homework and have fortnightly spelling tests. From spring term in Year 7, to start preparation for the demands at GCSE level, pupils learn quotes by heart from the texts studied and continue this homework
in Year 8. Talks on heroes and topical issues are part of KS3 homework in the summer term.
Pupils are expected to have a reading book with them at all times in school; reading for pleasure is actively encouraged and pupils in KS3 keep a reading journal.
Home learning
Weekly resources and activities to match the work completed in English lessons are available for our pupils via the OneDrive. Other ways to support your child's learning at home can be found on BBC Bitesize; buying copies of class novels to read at home or accessing the e-texts on the OneDrive; reading to your child each night; listening to your child read; helping them learn their spellings; taking your child to the public library; having books at home to encourage a culture of reading; and reading over your child's homework, encouraging your child to redraft if there are mistakes.