Our Chinese Visitors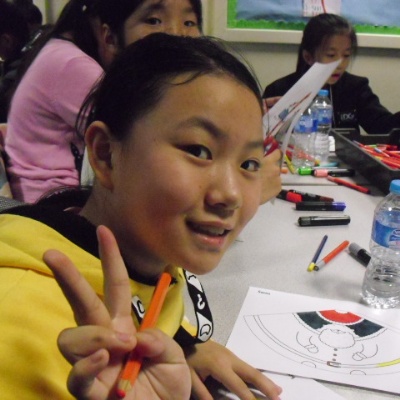 28 children from China came to visit GEMS.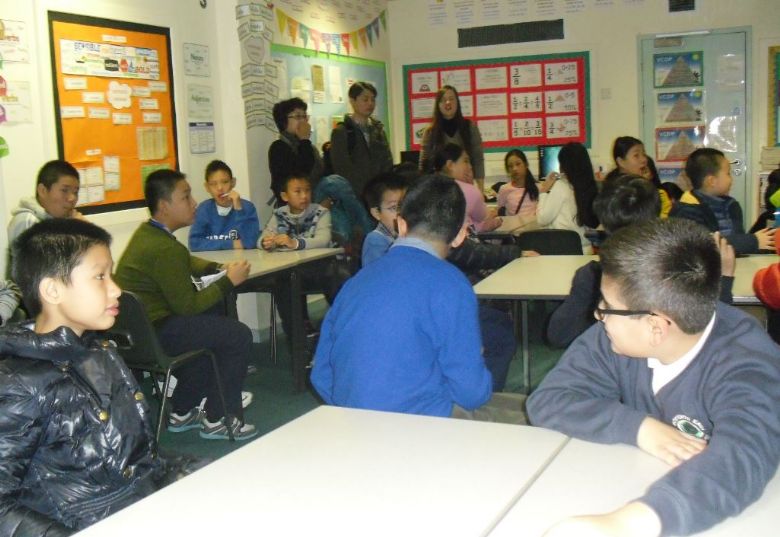 First a report from one of our talented pupils:
On Wednesday 2nd December GEMS had some visitors all the way from China! They stayed for one day and participated in some fun activities. The current school council helped and made friends with the Chinese pupils.
First we showed them a fabulous PowerPoint made by Tim and Alex and then we gave them a tour around the school showing all the things GEMS has to offer such as the Art, ICT, DT and Food rooms, we took especially long in the ICT room as we were showing them all the work we've been doing.
We then went out to break and played some games they enjoyed. The school council reps went back to their classes but they joined the Chinese children for an early lunch. Miss Hodgson and the choir showed us a bit of what they have been doing.
After the refreshing lunch we did some games in the gym with Sherry which everybody loved! We then made some Christmas decorations and rounded of this amazing day with some traditional tea and scones.
At 3:40 some of school council went bowling with them and had a great time even if they got more than us.
This was a fantastic day, we all loved it!
And now here's what our talented assisted head has to say:
On Wednesday 2nd December GEMS hosted 28 students and 4 teachers from Yiqiang Primary school in Shenzhen, China. The pupils were taking part in a two week visit to England which was organised through Stephenson Memorial school. Mrs Overton, head of the school and parent governor at GEMS, offered us the opportunity to spend the day with the pupils. It was a fantastic day which involved a range of activities expertly organised by our school council. Our visitors were greeted by the whole school in assembly then taken for a presentation by Alex and Tim in Year 7. This was followed by a tour of the school - the pupils were particularly impressed by our ICT suites and D.T./F.T. rooms. The Chinese students then took part in lessons where they wowed Ms Hodgson with their piano skills and Mrs Heslop with their maths abilities. The whole school enjoyed getting to know the pupils at lunch and break time, lots of photos were taken and lifelong friendships were formed. The day ended with some art activities and then a traditional English afternoon tea - complete with scones, jam and clotted cream! We were all very sad to see our visitors leave, but they kindly left us with some Chinese instruments as gifts which Ms Hodgson was thrilled with and Mrs Bullock even showed off her flautist skills! Miss Camwell and Miss Wilson took a group of lucky School Council members with the Chinese pupils to Lane 7, for an evening of bowling and dinner.
The whole day was a wonderful experience for everyone in school and a fantastic opportunity to learn about other cultures, to make new friends and to experience another language. The School Council were incredible ambassadors for the school and went to great lengths to prepare an enjoyable visit for our guests. We are certain that the pupils will stay in touch with each other and we hope to have many more cultural exchanges with schools around the world.
And finally, see for yourself: