Curriculum Week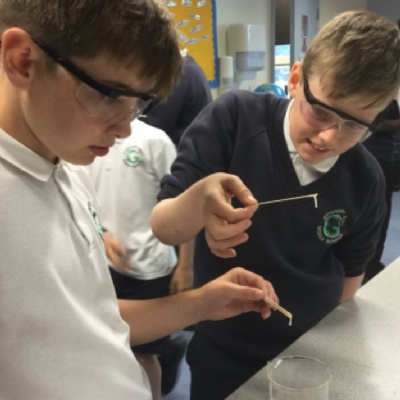 During curriculum week, many different activities took place, revolving around the theme of 'walls.' We were given a timetable for the week and all year groups shared the same lessons. It was a chance to make more friends with the various year groups and people from your own year group, who weren't our closest friends, as well as to explore the theme of walls in all of its variations.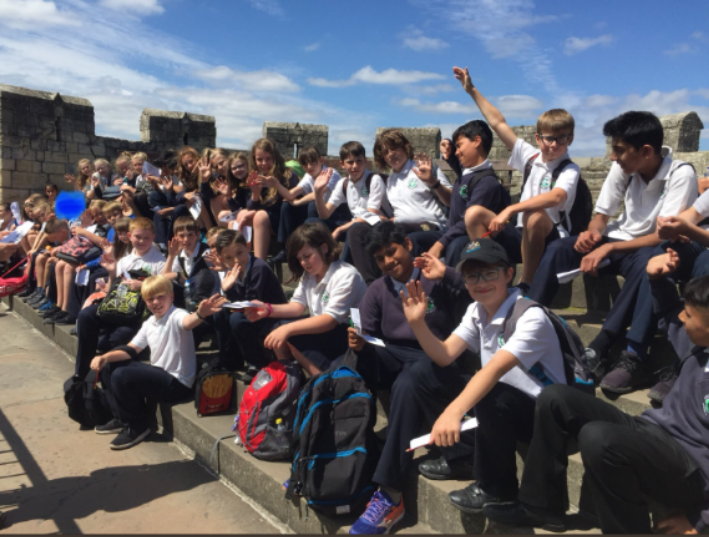 During curriculum week, many different activities took place, revolving around the theme of 'walls.' We were given a timetable for the week and all year groups shared the same lessons. It was a chance to make more friends with the various year groups and people from your own year group, who weren't our closest friends, as well as to explore the theme of walls in all of its variations.
Food Walls
Food Walls was a brilliant lesson to have all morning and was probably one of my favourites. Mrs Heathcote interpreted the theme 'walls' in a different way; food walls was about barriers. We talked about the different barriers that disabled people may have to face every day and what could be holding them back. We discussed the issues blind people have to face in more depth.
After that, we were told that we could make a sandwich blind folded with our partner guiding and talking to us, but we didn't have to if we didn't want to. Most of us did want to, especially me. We had to collect the equipment, collect the ingredients, and walk around the classroom to put things in the bin, spread the jam (we picked the messiest filling for some reason!) and make a drink, whilst wearing a blind fold. My partner (Leila) went first and made it look easy; then it was my turn…
Apart from nearly flooding the cookery room when I came to make the drink and bumping into the table on a number of occasions and picking the jam up with my hands, I was good at it. It was such a fun morning but we were also aware of the issues that blind people face on a daily basis. It was an educational and fun lesson.
Breaking Down DNA Barriers
DNA barriers was another fun lesson that I had on an afternoon. I made a necklace that used the colour pattern of a butterfly's DNA and we made some origami to do with the colourful patterns on DNA. After break, we went into the lab and looked at cells under the microscope, then we drew them. After dinner, we extracted the DNA from a strawberry (which was a fun, messy process.) We had to crush the strawberry then add a special solution. Then we added specula cleaning alcohol and watched the slimy DNA rise to the top of the solution. It was brilliant. To end the day, we researched some famous women scientists and wrote about them. It was very interesting to learn about these women, who devoted their lives to finding cures and discovering new things.
The Greatest Showman: Personal Barriers Explored
I was very lucky to be able to watch the Greatest Showman with Mrs Donnelly and some of my friends. We watched the film and had the words to the songs up on the screen, in case anybody wanted to sing along! During the film, we wrote some ideas on a sheet about the characters barriers. After that, we learnt lots more about this very popular film. It is actually based on a true story and I didn't know this! We also studied each character in more depth and compared the character to the real person. It was a brilliant afternoon.
Curriculum week was a chance to participate in some very fun activities and make some new friends. I think I speak for many people when I say that I thoroughly enjoyed every part of it.
Charlotte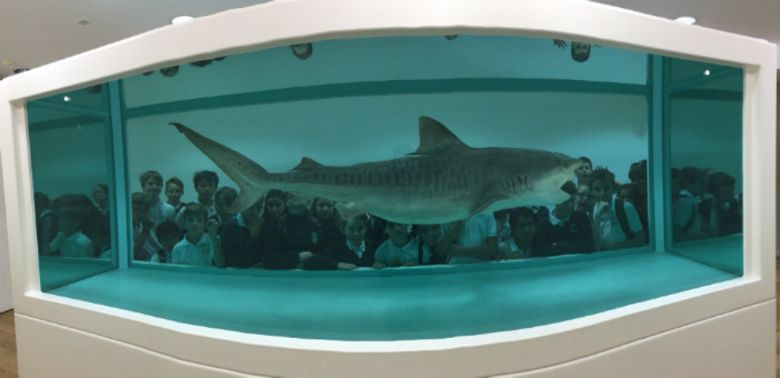 The Escape Key
During the curriculum enrichment week a visit to the escape key was organised to fit the theme of walls and how we can overcome them. I was a participant in this trip and I must say that this was a wonderful experience!
We as usual, travelled via metro since our destination was situated in Newcastle. Upon arrival we were greeted by the staff and the designer of the rooms. We were informed that there was multiple rooms: The Plague Room and Armageddon, with a third room for adults only named the witch room was underway.
We were divided into four groups, half entering Armageddon and the others entering The Plague Room. I, personally, entered The Plague Room and thoroughly enjoyed the experience. We entered and we were instantaneously consumed by the deathly ambience as we were warped back in time to 1636, The Plague has consumed Newcastle and the plague doctor is on route to your demise. Instantly, we started formulating a plan of action. We split into different task-managing teams to reduce time usage. I was using a plague doctor mask to reveal hidden messages inscribed into the epidemic-ravaged walls while others used codes to unlock the arch door. In the second room there was a corpse of what looked like a grandmother chained to a chair, clutching a box. The box needed a code but was pre-emptively unlocked at which point a staff member entered and re-locked the box.
We then entered a cellar at the time of entering a half severed corpse dropped down from above. Whilst all others from years 5 to 8 were all wailing in terror I found the body satisfying to squeeze. We found the final code to exit in a skull box and escaped with 5 minutes spare.
We then had a short trip to Newcastle's oldest church and sat on a plague pit and had a lecture on the times of the black death. I did not previously know that people would accuse one another of things without valid proof. One man executed 265 "Witches" and one "Wizard". His process was to jab a needle in their leg and if they bled they were innocent. The trick was, the needle was retractable so he had the power of death in his hands.
We then headed back to school to continue afternoon lessons. Overall I enjoyed The Escape Key to the fullest and recommend it to anyone willing to book it for a work bonding experience, a school trip, a day out for friends or just a family trip.
Mark 5AW
Breaking Down Career Barriers
Breaking down career barriers was a lesson, where a man from the cadets came into school to talk to us about joining. We looked at the food that they ate when camping and carried the really heavy bags. Not only had this but we learnt lots of new information about the cadets and what they do. After this we made catapults because they break down walls. We made them out of lollypop sticks or pencils and fired counters. We then went outside and had a competition on who's fired the furthest. It was a fun afternoon.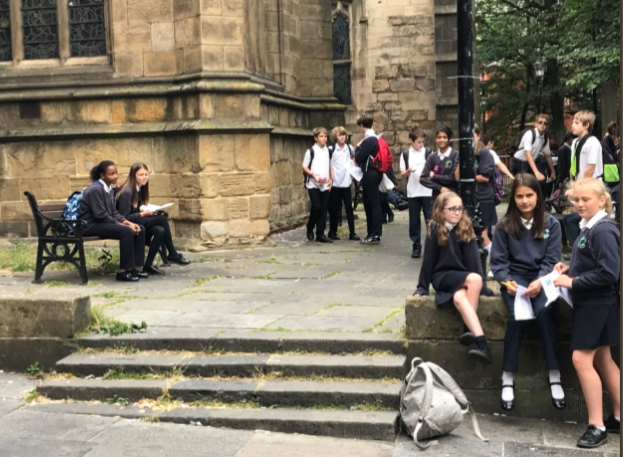 Newcastle Walls
During curriculum week, lots of pupils had the chance to go on some very exciting visits including the Newcastle walls trip—which I took part in.
42 pupils travelled by metro to monument with Miss Pink, Mrs Corfield and Mrs Brenes-Vela. Firstly we got into small groups and shared a quiz sheet to fill in along the way which was all about the history of Newcastle.
I saw some places and landmarks which I didn't even realise existed like 'the Strawberry' pub outside St James Park where all the fans go before the football! We had a look around St Nicholas's Cathedral and around China Town.
Personally, my favourite part was getting to spend some money in either Starbucks, Pret a Manger or Shakeaholic and many people would definitely agree; the strangest food order was a classic sausage butty! Another favourite – again, involving food—was enjoying lunch on the millennium bridge after watching it blink—very slowly.
It was a very worthwhile experience as I learnt a lot more about our amazing city, many things I probably never would have known.
Leila 7HTH
STEM — Breaking Through Barriers
On the 11th July a group of children both from STEM club and other STEM enthusiasts embarked on a trip to the Hancock Museum. The point of the trip was to explore the Great Exhibition of the North, an exhibition showcasing the amazing achievements of people from the north east. There are a lot of amazing things being displayed in the exhibition such as Helen Sharman's Astronaut suit, the 11th Doctor Who's sonic screwdriver, Jessica Ennis' running shoes and lots more fabulous items which have made history.
As well as the Great Exhibition of the North there are the interesting things that the Hancock always has to offer one of these things was the unusual tiger shark model, with a few mirrors it is a unique piece of art-I love it! Overall it was a great experience seeing all these great achievements was very inspiring ...we should not limit our ambition or our imagination. I would definitely recommend visiting this wondrous exhibition.
By Issy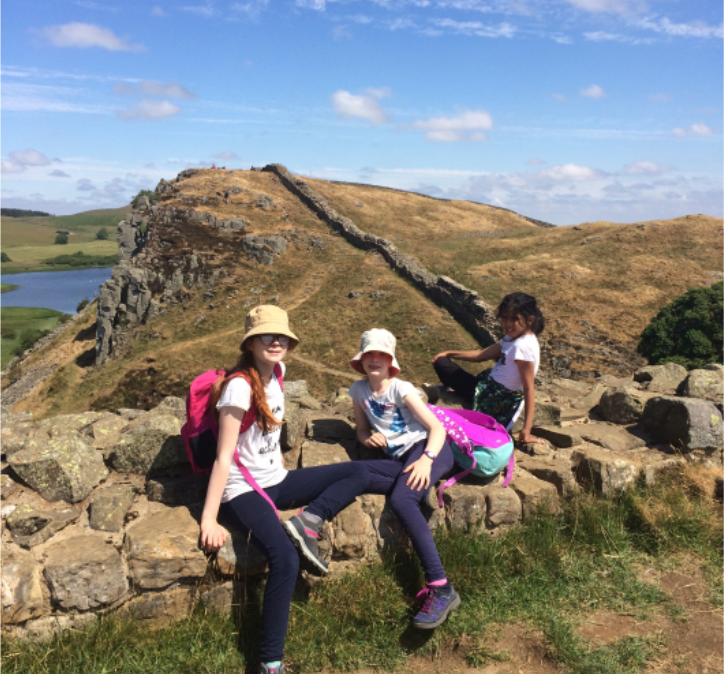 Hiking Hadrian's Wall
On the Tuesday and Wednesday of Curriculum Week one trip ventured up into Northumberland to 'Walk the Wall'… we could not have explored the theme of 'walls' without visiting the iconic Hadrian's Wall right on our doorstep.
The first group explored Housesteads Fort after watching an interesting introductory film. The second group had a lesson in a virtual classroom where they learnt about Roman cursive scrip and Roman numerals as well as what it was like to live in Roman times. They also watched a 3D film which looked at the history of the wall itself.
Both groups then embarked upon their trek between Housesteads and Steel Rigg. It was three miles over tricky terrain but everybody did very well and completed the walk...On the first day, however, the entire sole fell off both of Mrs Beaty's walking boots before she set out (some people will do anything to avoid a walk!) The weather was glorious as we looked over the awe-inspiring landscape and imagined ourselves as Roman Soldiers. We passed Sycamore Gap and stopped to have our photograph taken underneath the tree that featured in Robin Hood Prince of Thieves. Everyone enjoyed a well deserved ice cream before we set off for home tired but proud to have 'Walked the Wall'… well a bit of it!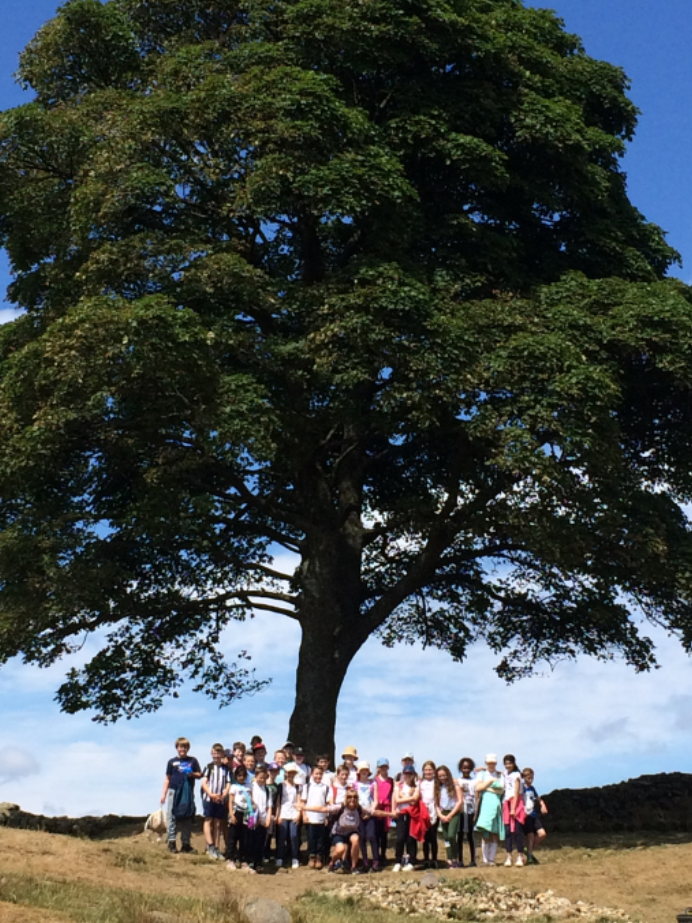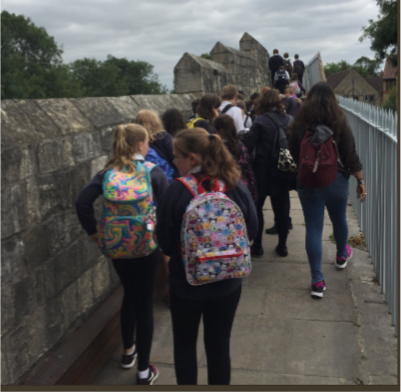 More walking in York