Maths at the Centre for Life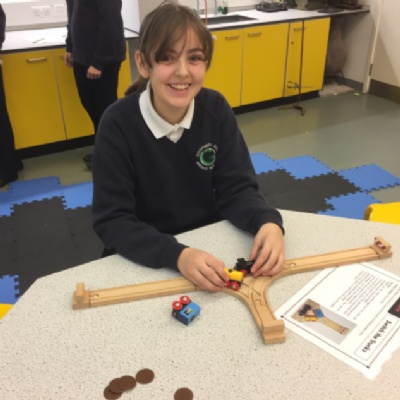 Children from Years 5, 7 and 8 all went to the Centre for Life to learn about maths.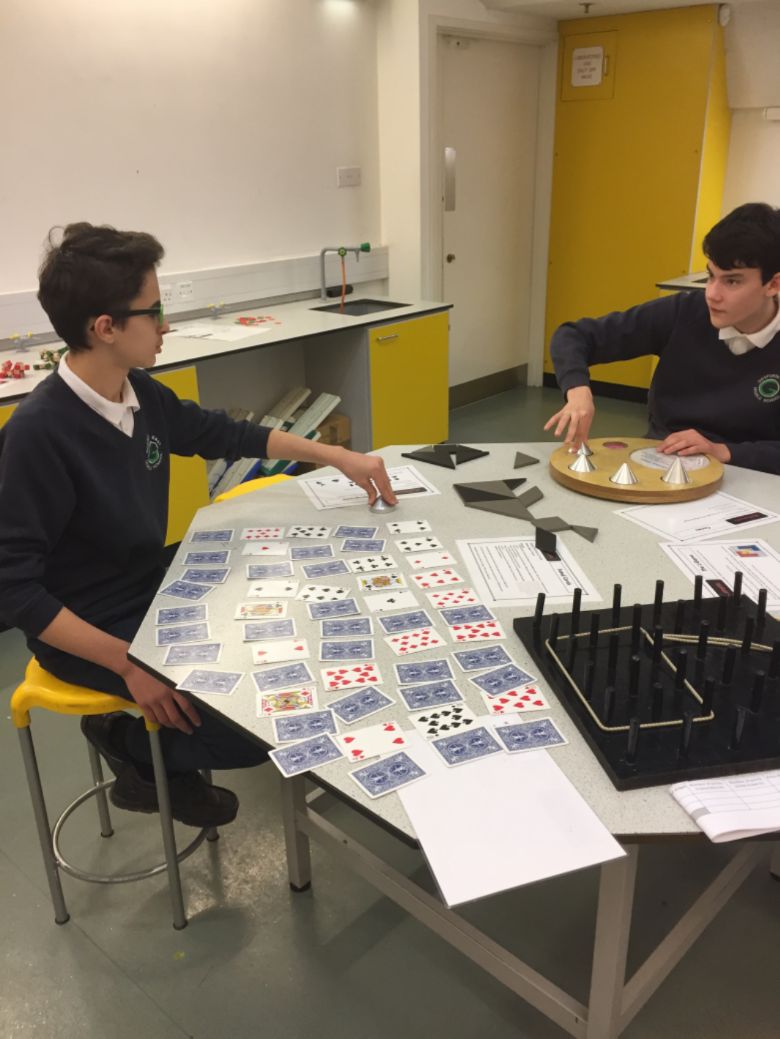 Year 8 on their maths trip to the Centre for Life
Year 5 Mathematics Surprise!
On January the 31st, thirty students visited the centre for life on a festival maths trip. It was Miss Pink's set who were chosen to represent the school. Unfortunately, Miss Pink was unable to attend but thankfully Miss Heslop stepped in.
Do you think a maths festival would be boring?? Well maths is an incredibly important part of everyday as it was later proven that day through the activities we participated in. These included murder mystery puzzles, dice games, riddles, Roman numeral code breaking, manipulating floor plans, 3D patterns, Shape recognition, card sorting games and many more. We enjoyed getting involved in the different maths challenges as it made us think in new ways and gave us a sense of achievement.
Throughout the day there were several additional activities. There was the planetarium and the 4D motion polar express ride. Many people enjoyed the 4D motion ride because of the adrenaline rush. In contrast, the planetarium was calm and relaxing because of the soothing music, star gazing and especially the comfy seats!!!
In conclusion, the trip was a fantastic day out and if you get the chance to something similar I would recommend you take it.
Ethan 5ER
Year 7 at Life
On the 26th January year 7 set 3 maths went on a trip to the Centre For Life. It was for a maths course and a good opportunity to get out of the classroom and do some puzzling. The class got the Metro from regent centre to central station and walked from there to the centre for Life. Next, we met the instructors… they were very pleasant. The class were then taken up the stairs and into a classroom with activities set up ready to use. The instructors then demonstrated how to do two particular activities that used your brain the most! My partner (Georgia) and me circled the room and completed every activity (well most of them).
Some of the activities were more challenging than others for example, there was a puzzle where you had to fit all of the blocks into a small square using all of the pieces. Georgia and I spent the longest time on this one but we were determined and showed resilience so we finished it eventually.
During this trip, Georgia and I found that our favourite activity was a one where you had to fit all of the bottles into a board but, every row had to equal an even number which made it more difficult. In the end, we called over one of the members of staff to check that we had completed it correctly. It was then that she told us that we had came up with a solution that wasn't actually on the answer sheet!
For Year Seven's next activity, we were directed into the planetarium which was in the centre of the building, and took our seats. Then, one of the instructors clicked a button and the roof above us turned into space! He then showed us which star to look for when we are out at night, it was called Polarus, and we now know how to find it. Polarus is the brightest star in the sky, so now if we go out and look for the brightest star, we will know that it is called Polarus.
Finally, after the planetarium, we went on a dinosaur trail. It was a lot of maths quizzes all in one area! Year 7 had to go around the trail in pairs and solve all of the different challenging questions. My favourite puzzle was a one where you had to figure out how much the dinosaurs ate based on how much they weighed. Georgia and I struggled on this one for a while but we eventually found the answer! Also, we named the dinosaurs: Phil, Lesley and Barry!
I felt that this trip was educational and a great way to get out of the classroom for a day out and still use your brain! I really hope that the school will continue doing more trips like this one because it was a great day and a fantastic way to have fun whilst doing maths!
By Holly, 7MR
What our pupils had to say:
When we arrived, we had to complete a variety of different activities related to maths. Some were very challenging! We especially loved the planetarium. Thank you for a wonderful day.
Ellie and Shakiba
In the life science centre, we used resilience in a puzzle to get the chicken, corn and fox across a river. We didn't know how to do it but we didn't give up . Eventually we put our heads together and completed it.
Josh and Daniel A.
I really enjoyed the planetarium because I learnt how to use maths with the stars. I also really liked the maths puzzles because they made you think.
Freya W.
I enjoyed working in the lab with all the different challenges. I found some of them hard but I managed in the end. One of the puzzles I really enjoyed was the tower huni where you had to get the bricks from one post to another without putting a larger block on top of a smaller block. Sophie
Sophie J.
When we were on the maths trip, I particularly enjoyed the dino trial. My friend, Georgia and I found ourselves really stuck when we had to figure out how much the dinosaurs ate but we soon found our resilience and solved the problem. We even named the dinosaurs Phil, Lesley and Barbra.
Holly S.
I really enjoyed arranging the bottles in the crates because I was really stuck. I was about to give up but my resilience kicked in and I found a new solution.
Georgia W.