Walk on the Wild Side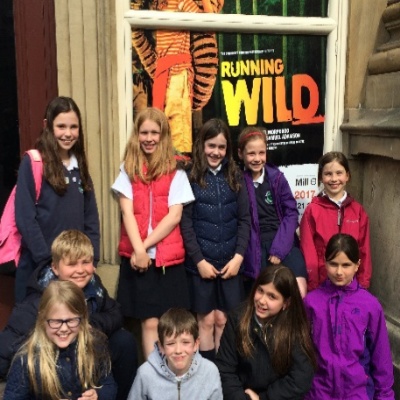 On Wednesday the 10th May, ten people from Year 5 Book Club (a club where you get to read and talk about books that you might not pick up yourself) went to the Theatre Royal to see 'Running wild', which is a play adapted from the book by Michael Morpuro. It was amazing. In the book there is a giant tsunami wave that hits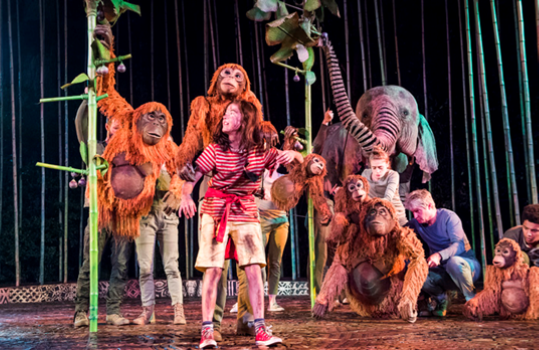 The amazing puppets
On Wednesday the 10th May, ten people from Year 5 Book Club (a club where you get to read and talk about books that you might not pick up yourself) went to the Theatre Royal to see 'Running wild', which is a play adapted from the book by Michael Morpuro. It was amazing. In the book there is a giant tsunami wave that hits
Malaysia and the theatre Royal set builders stuck rubbish and car doors all over the walls and ceiling of the stage. This was to suggest the destruction caused by the enormous wave. When we first saw the elephant, all of us saw the people who were doing the puppeteering . However, gradually through the show the people 'wore away' and the animals came to life. My favourite part was when the elephant battles the tiger which is shown here in a picture on the right . All the puppeteering was astonishing and I think everyone who saw 'Running Wild' would agree.
By Holly, Year 5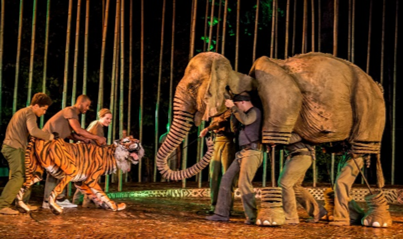 Elephant vs Tiger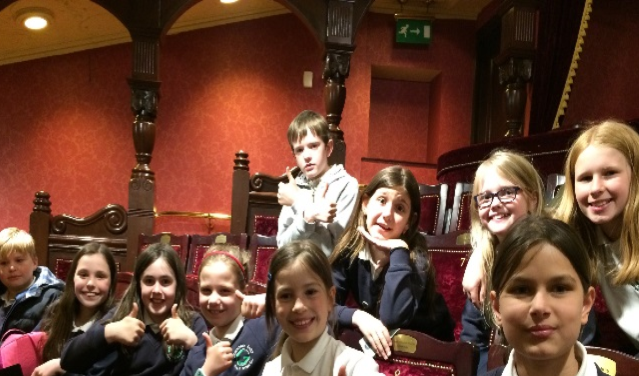 In our seats ready for the curtain to rise
'Running Wild' gave us a very important message on the 10th May. It taught us how we get many well known everyday products such as shampoo and soap. It explained that we should think before we buy somethings because many of the ingredients come from rainforests and jungles that are being destroyed to provide these products.
At the end of the play one of the characters delivered a warning.
"When all the trees are burned down; when all the water is so dirty we can't drink it ; when all the animals are poached; when the air is so polluted it is unsafe to breath. Only then will humans realise our responsibility."
We all learnt that we should take some more time to consider what we buy and do.
Holly said "I really enjoyed it and I found that we should really appreciate nature and what it does for us."
It wasn't just GEMS that visited 'Running Wild', it was loads of other schools and they all got this important message as well.
As well as palm oil production and animal species in danger, the play also considered the impact of a natural disaster - a tsunamis. Lily's (the main character) mum dies in a
tsunami and her dad, who is a soldier, gets killed by a bomb. This shows that we should appreciate what we have and not always want more.
All of us loved the show and recommend it to everyone who has not watched it yet.
By Tasha and Tarika, Year 5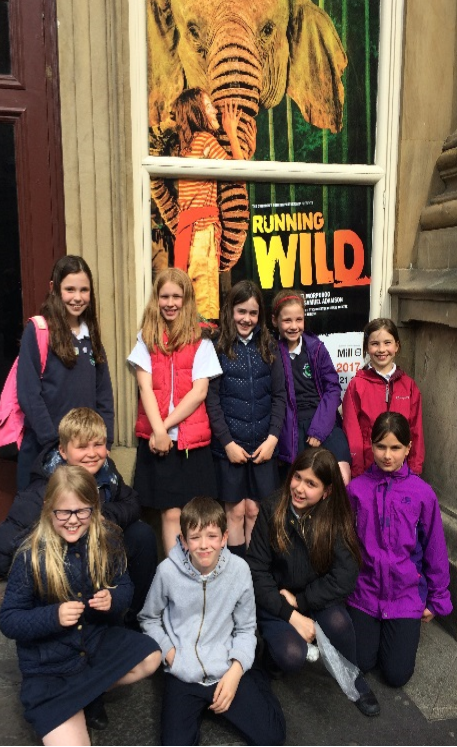 Smiling faces after the show