Newcastle City Council Schools: Achievement Awards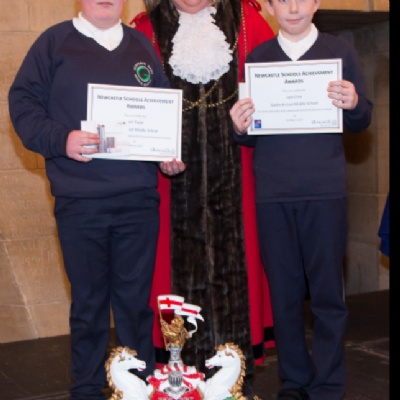 Two of our pupils were nominated for special awards...read our article to find out why.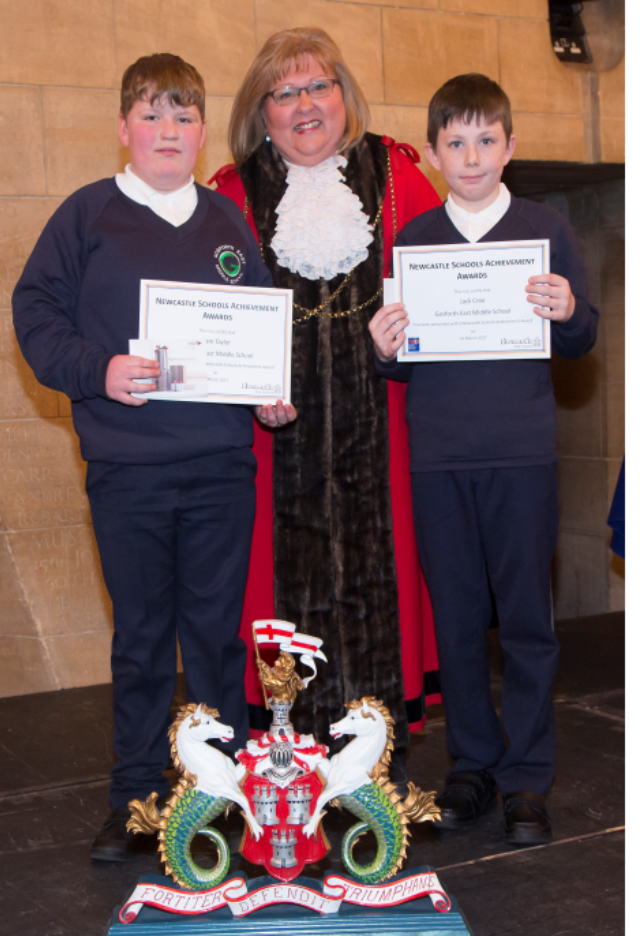 Sam and Jack with the Lord Mayor
Two of our pupils were nominated for special awards...read why.
We would like to nominate Jack for a Special Recognition. Jack is a Year 6 pupil. He is an extremely hardworking boy, always keen to produce the very best work he can. Jack is a super listener; he pays attention and participates actively in every lesson. Some lessons are particularly challenging for him, yet due to his determined character, Jack will focus on these areas of difficulty not just at school but at home with his parents too. Jack has a lovely nature. He is kind, polite, friendly, inquisitive and will always offer to help. His beaming smile really does light up the classroom.
We would like to nominate Sam for a Special Recognition. Sam is now in year 7 and he has missed a lot of school due to illness and yet when he returns to school he does so with a positive attitude. Despite his difficulties, he remains committed to learning, and he is a model for his fellow students. He works hard in all his lessons, and seems eager to expand his knowledge and discover more about the world. Every day he walks into school with a smile on his face. He also shows kindness and compassion for other children, and is always keen to volunteer his help. In short, Sam is nothing short of an inspiration.
Sam's View
After school I went home to change into my new uniform then left for the Civic Centre with my Mum and Dad. When we got there we sat in a grand hall around a table with some other children who had also been nominated for an award. Miss Heslop, Mr Stout and Mrs Collister where there to support me and Jack. The names of the different schools were read out and the names of the children along with the reason for everyone's nomination. We then went up to the front to get our award and certificate from the Lord Mayor before getting our photo taken. We went back to our table and enjoyed a buffet lunch before going home.
I felt surprised at being nominated and nervous when I had to collect my award. Now me and my family are proud because I was chosen.
By Sam, Year 7