Roald Dahl Writing Day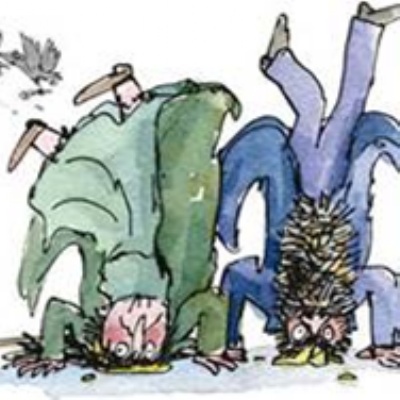 Roald Dahl Writing Day, on the 24th March, was a day that GEMS loved. It was full of writing and Roald Dahl - what's not to love.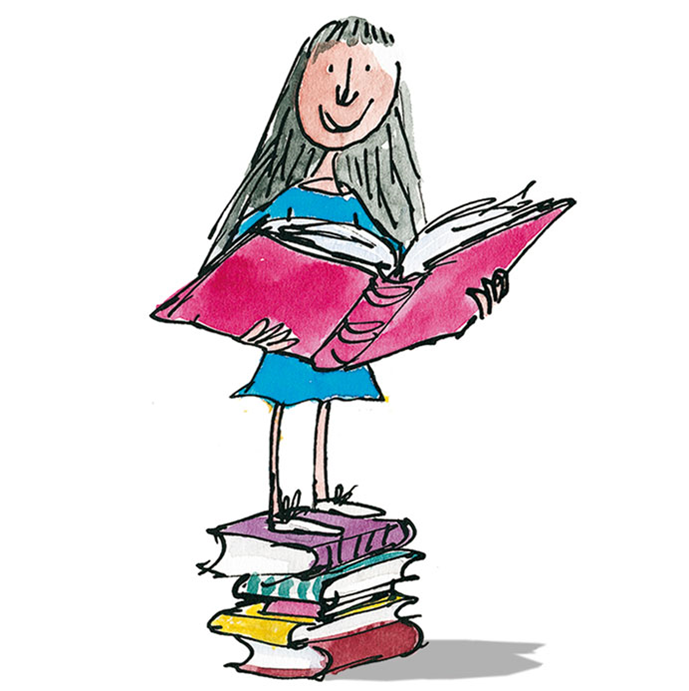 Roald Dahl Writing Day, on the 24th March, was a day that GEMS loved. It was full of writing and Roald Dahl - what's not to love. Mrs Collister based the day on Roald Dahl this year because if Roald Dahl was alive today he would be 100! She said that Roald Dahl deserved to be honoured and remembered in this way. There can't be many people who don't have at least one of his books on their bookshelf at home.
When we interviewed Mrs Collister she told us about the teacher's view of Roald Dahl Writing Day. She said there were many good things about the day with pupils writing poems and stories and taking part in other creative activities. She especially liked the fact that lots of staff got into the day as much as the children! She thought that Dahl would be proud of all of the writing that the children had done. He had wanted to inspire others and that is exactly what has happened. She added that she was proud of the children and had enjoyed reading the poems and the character descriptions. There were certainly some peculiar characters that had been created and the Dream Labels were imaginative too.
We asked if there was going to be a Roald Dahl Writing Day next year since it had been such a great success. Mrs Collister said no but that next year it might be Shakespeare…that will be a challenge for us all! She said that we haven't finished with Roald Dahl yet because there is a Roald Dahl theatre company coming in June, and an exciting display highlighting Roald Dahl Day has been put up by Mrs Lambeth."
By Samaha and Katie Year 5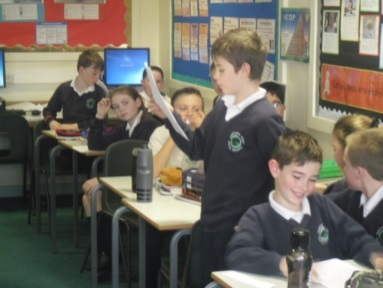 Dylan entertaining all of his class.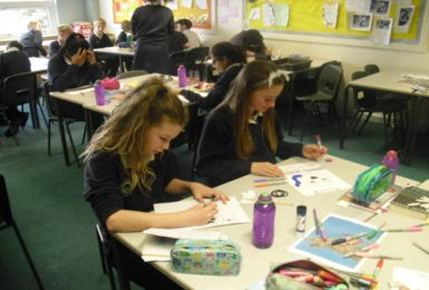 Some more students working their socks off, (or probably tights!)
What some of the pupils thought
My thoughts of the day were that I enjoyed writing my own character. I also enjoyed making stories and learning about Roald Dahl . Today was not what I expected it to be. I thought it would be boring but it was the exact opposite!
I personally think that today was amazing. I have never had a writing day. But now I am more excited for next year. I really enjoyed working with a partner to make an imaginary character. I really like thinking of characters.
Inspired by Roald Dahl: Some work from our budding writers...
The Adventures of Hairy Mary
By Josh 7KJ
Hairy Mary always dreamed of having a different lifestyle, something that would make her very happy because, after a few years, you get very bored of eating children for breakfast, lunch and tea. Mary dreamed of a jolly, wonderful and interesting life. She dreamed about it for days on end imagining everything down to the last detail ; she even imagined what she would look like and how she would feel. Mary wanted something new, unique and beautiful but no matter how hard she tried to make her dream a reality, it had never happened …until now.
Mary woke up in a beautiful, luxurious bed. Straight away she knew it wasn't hers so she decided to examine it. Diamonds and rubies encrusted the frame of the bed and there were large springy pillows with pictures of clouds and animals all over them. Then Mary remembered her endless search and her efforts to make her dream a reality, this was Mary's dream come true.
Mary suddenly had a spring in her step; she felt as if her soul had been revived. Quickly she leaped out of bed and ran towards what seemed like a door only to be filled with wonder and joy. It was exactly how she imagined it. It was a world where wildlife roamed free and there was no evil and no rules: everything was right in this world.
Poem by Alfie 7KH
Long red twisted tail,
When you see it you begin to wail.
Teeth as sharp as a butcher's knife,
It will surely and slowly end your life.
Evil terrifying red eyes,
Better go say your goodbyes.
People underestimate its powers,
Their families were sent flowers.
The creature needed to meet its demise,
This is the time for a hero to rise.
He appears in the city. What's that sound?
It's the hero going round and round.
What will happen?
Will it be sad?
Will it be for the good or for bad?