Marvellous Maths Champions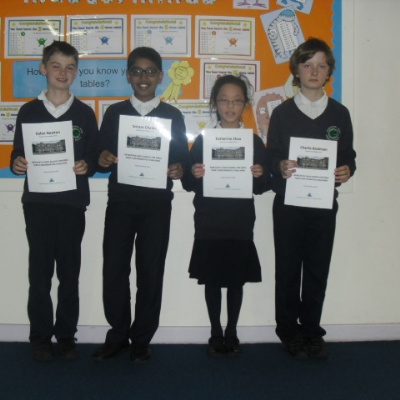 We won the maths challenge at Newcastle High School for Girls.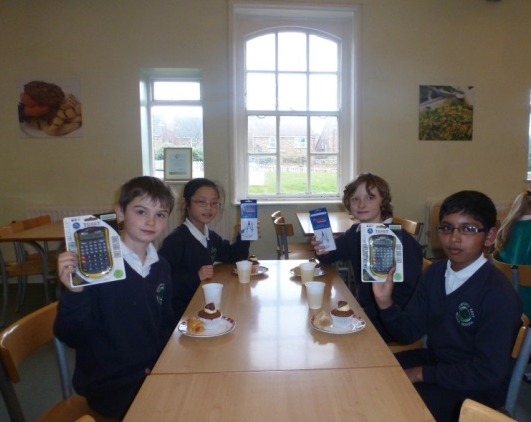 The winners with their prizes (and cake)
On Friday 18th March, Katherine, Charlie, Sriram, Dylan and Mrs Rowland boarded a taxi and headed off to Newcastle High School for Girls to take part in a maths tournament. When we got there, Mrs Rowland realised we had arrived at the incorrect school! Little did we know that, although the afternoon hadn't started well, it was going to end well.
When we go to the right part of the school, a member of staff led us to the cloakroom then to the hall, where the tournament was actually held. To start, we played a maths game called Dicey Dicey where we were given 4 numbers and we had to use these numbers to make a total number. My team (me and Charlie) got 10/10 in this round so we had a great start!
Next, we did a carousel of 3 activities which started with Tangrams- we were given some little plastic 2D triangles and a sheet with triangles (printed) and we had to fit the plastic triangles on the printed triangles. On this activity, we got 4 out of 5 which was pretty good as only 1 pair got 5/5.
The next carousel activity was called Mystery Number where we had to figure out the mystery number using clues. We found this very easy and we had tons of time left. In the final activity we had dominoes and a sheet with numbers on which we had to put all of the dominoes. There were 5 groups of numbers so we went for the majority. Eventually we got 4/5 having only two dominoes left over.
The tournament finished with a game called Make 24 and a Maths quiz. We were given 5 numbers and had to make 24 using all of these numbers; we finished all of them so got 6/6 on this task. We got top marks on the quiz!
At the end of the day we got the results and were excited to have come third out of 26 teams. We were even more delighted when we heard that Sriram and Dylan- the other GEMS team came first! Before we left we received prizes and had a delicious, and well earned, treat tea. We really enjoyed going on this trip and hope to be back again next year to win the Year 6 maths Challenge!
By Katherine 5ND
| | |
| --- | --- |
| 1 (164) | GEMS: Team 1 |
| 2 (162) | Shotley Bridge Primary |
| 3 (155) | GEMS: Team 2 |
| 4 (1520 | The Choristers School |
| 5 (140) | Richardson Dees |
| 6 (138) | St Mary's Melrose: Team 1 |
| 7 (136) | St Mary's Melrose: Team 3 |
| 8 (134) | Kings Priory School: Team 2 |
| 9 (134) | Kings Priory School: Team 1 |
| 10 (133) | Newcastle High School for Girls |
The Score Board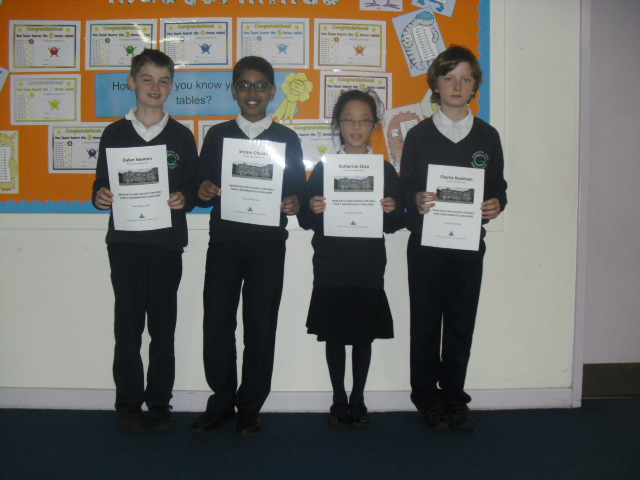 The teams with their certificates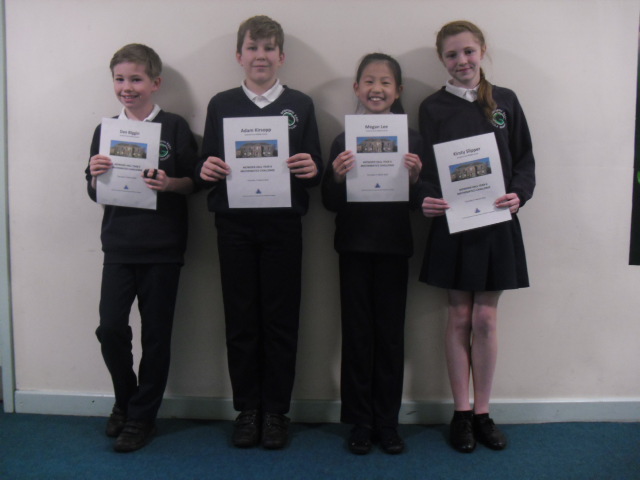 Our teams from the year 6 maths challenge which was held on a different day. They also did very well, coming 4th and 7th.