Technology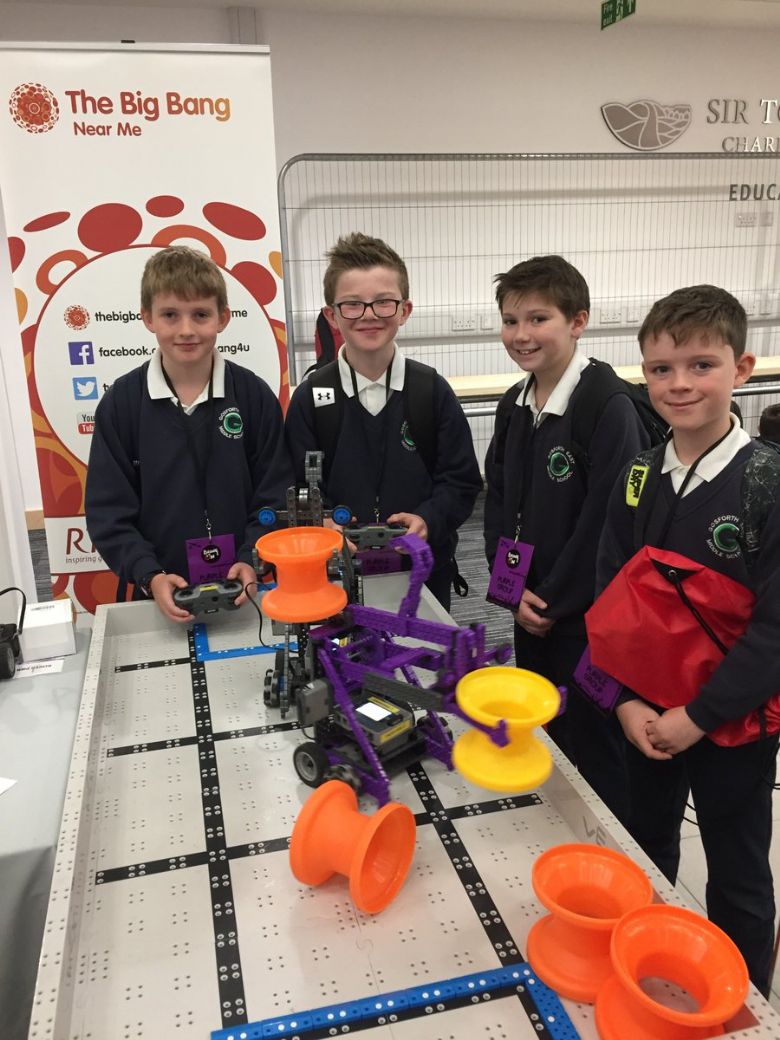 Year 6 learning about engineering
Design &Technology
Food Technology
Aims and objectives
Technology prepares children to take part in the development of tomorrow's rapidly changing world. Creative thinking encourages children to make positive changes to their quality of life. The subject encourages children to become autonomous and creative problem-solvers, both as individuals and as part of a team. It enables them to identify needs and opportunities and to respond by developing ideas and eventually making products and systems. Through the study of Design and Technology, they combine practical skills with an understanding of aesthetic, social and environmental issues, as well as functions and industrial practices. This allows them to reflect on and evaluate present and past design and technology, its uses and its impacts. Design and Technology helps all children to become discriminating and informed consumers and potential innovators.
The aims of Technology are:
Ø to develop imaginative thinking in children and to enable them to talk about what they like and dislike when designing and making;
Ø to enable children to talk about how things work, and to draw and model their ideas;
Ø to encourage children to select appropriate tools and techniques for making a product, whilst following safe procedures;
Ø to explore attitudes towards the made world and how we live and work within it;
Ø to develop an understanding of technological processes, products, and their manufacture, and their contribution to our society;
Ø to foster enjoyment, satisfaction and purpose in designing and making.
Ø To evaluate the success of their design and to consider ways of improving it
Organisation
Technology is taught in all year groups on a carousel of Art, Design & Technology and Food Technology. Children are taught in groups of 20 for a double lesson a week for a term..
Topic overview
Units of study give due coverage to all areas of the QCA document
Ø Mechanisms Moving Toy (5)
Ø Structures Sears Tower Project (6)
Ø Resistant Materials Clock Project GAUDI 8, Boat Project 6, Fuse tester & Photo frame acrylic 7
Ø Electronics Fuse tester Project 7
Food Technology
Week

Year 5

Wed 4/5

Thurs 4/5

Year 6

Mon 1/2

Thurs 4/5

Year 7

Tues 2/3

Tues 4/5

Year 8

Wed 2/3

Fri 2/3

1

Theory

Theory

Theory

Theory

2

Demonstration (Dem) English Breakfast & make toast

Rock buns

Theory & small buns demo

Pineapple USD cake

3

Dem & make French Breakfast

Chequers biscuits

Small buns

Marble Pear pudding

4

Dem & make Continental Breakfast

Marble buns

Banana bread

Own design cakes

5

Dem & taste American pancakes Design Breakfast pot

Chocolate chip cookies

Fruit Crumble

Own design pudding

6

Make Breakfast pot

Carrot cakes

High fibre Crumble

Mushroom Risotto

Half term

7

Dem & make Blueberry muffins in 2's

Butterfly buns

Pizza Wheels

Healthy Lasagne

8

Dem & make Pizza toast

Bread

Pizza

Vegetable curry

9

Rocky Road Squares

Cheese and courgette scones

Cheese and herb scones

Own design chicken curry

10

Syrup Oat crunchies

Puppets

Pasta bake

Pasta bolognaise

11

Iced shortbread

Puppets

Spaghetti and Meatballs

Chilli con carne

12

Fruit Scones

Puppets

Written test

Written test
*Order of lesson's may change at short notice eg trips, training or curriculum days.