Chinese Sister School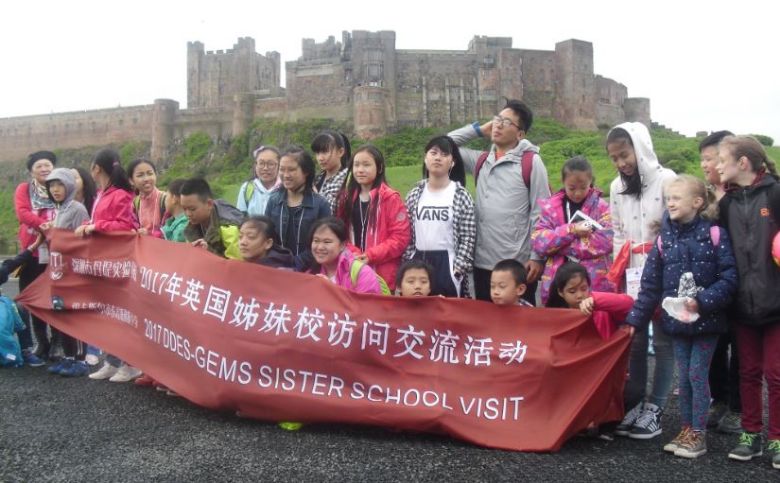 Dandi Students at Bamburgh Castle
GEMS are proud to have established a sister-school relationship with Dandi Experimental School in Shenzhen, Guangdong Province in China.
Over the past two years, children from Dandi School have come to visit GEMS, and our students have relished the chance to get to know children from another country.
Here is what our young journalists have to say:
The Daily GEM
Shenzhen Students Become Family with GEMS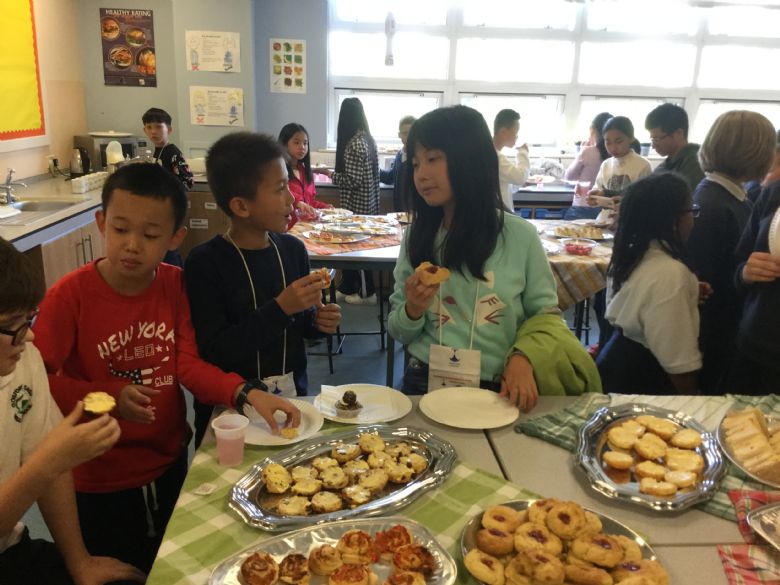 The Dandi Students Experience English Afternoon Tea
On Monday the 5th of June, 21 students and 4 teachers from Dandi Experimental School arrived in Newcastle. Dandi Experimental School is based in Shenzhen, China. All GEMS students gave a very warm welcome to the visitors. Many events had been arranged over the next 10 days.
In the welcoming assembly, the English students gave some facts about GEMS and the area it is located in. Then the hall filled with excitement. The sight of the year 8s tumbling down the track in the centre of the room was a delight for all to see. To show our appreciation the majority of the hall were the colour red to say good luck for the week ahead.
After a good night's sleep, to recover from their long flight, Dandi pupils arrived at GEMS raring to go. This was fortunate since they had a packed schedule ahead. The day started with English and ended with ICT and then it was time to head to Pizza Express, but on the way there, there was a very unfortunate event. Two members of 6NG, Patrick and Luke, got soaked head to toe by passing traffic. "That was so funny", Tony giggled. After all that wetness they finally got there. They chose their pizza toppings and enjoyed the time they had.
On Wednesday, they went on a local cycling trip around the country side. In the afternoon they did a cookery lesson with 6NG and 6PW.
They made jam buns and chocolate chip cookies. By all reports the Chinese pupils found it very fun to get involved with English cooking. When finished they washed the dishes and prepared an afternoon tea and enjoyed a disco in the Gym with some of GEMS students.
After all that partying the night before, it was time for canoeing in Hexham, on the Tyne. They had fun splashing in the water and trying different obstacle courses. Luckily, nobody fell out and everyone was safe. They finished the day off by heading to McDonald's at the Silverlink for a burger and fries. Miss Gill was surprised to hear from the children that there are McDonald's in China too.
Arms aching from the previous day, they headed to White House Farm. Tim (one of the visitors) was confused to see llamas and miniature Shetland ponies, as they do not have animals like that in their hometown.
Over the course of the weekend, they enjoyed going to Seahouses and eating fish and chips on the beach. They even had the chance to watch the tide come in.
The weekend came to a close with a trip to Scotland's capital, Edinburgh. Here, the Dandi pupils bought lots of souvenirs and went to many tourist attractions – even Edinburgh Castle.
In the final leaving assembly, tears filled many eyes. An amazing talent show was performed by Dandi pupils. GEMS' pupils were sad to see their Chinese friends leave, but now that they feel like a family. There are high hopes for what the future could bring for the two schools.
by Daisy, 6NG
10 Days of Wonder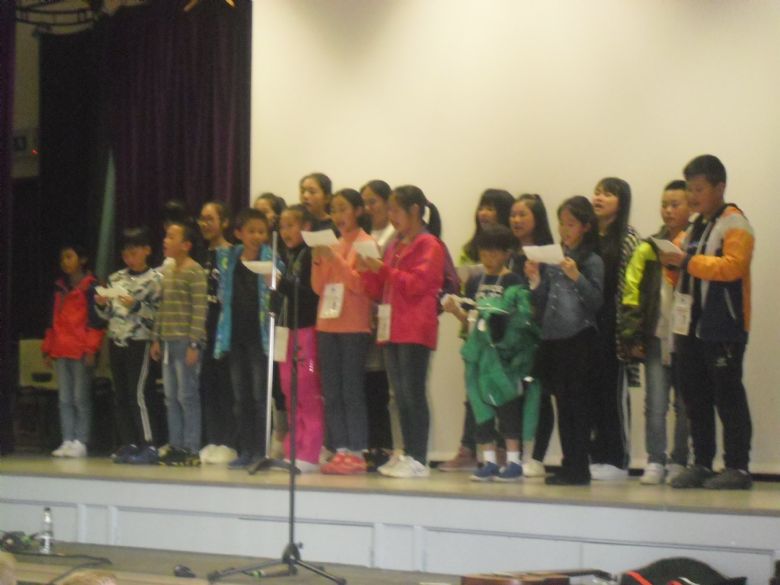 Dandi Students' Farewell Assembly
GEMS students gave a warm welcome to the 21 students and 4 teachers from Dandi School in China. Some fun activities had been planned for them such as a trip to the Scottish Capital, Edinburgh.
The visitors came from Shenzhen, which is a city in China – it's in the south of the country which means it is fairly hot. A fun fact is that they also speak Cantonese which is a dialect of the Chinese language.
The real welcome came in assembly on the first day when GEMS students talked about Newcastle and after that, the tumblers tumbled down in the centre of the hall doing backflips. "This was a special experience; I loved being a buddy to one of the Dandi pupils." Said Luke, Year 6.
The impact it had on the Chinese children was phenomenal; they all were in tears after their sister school was leaving them. Hopefully they can reunite with each other in Shenzhen, China, where we can learn about their culture and maybe do some experiments! After all, maybe that's why it's called Dandi 'Experimental' School.
On Wednesday, the school disco took place in the gym when these Dandi delights got straight up, showing off their moves whilst some needed a bit of encouragement.
The next day, they went canoeing in the freezing cold water - luckily no one fell in.
After that wonderful adventure, it was movie time! They then went to Silverlink where they went to watch Diary of a Wimpy Kid the Long Haul.
On the Saturday, after that lovely night, they went to White House Farm; they had never seen a Llama! The students reported that it was a very friendly animal. Tim (One of the Chinese children) said his favourite bit was when he held a spider.
by Mohsin, 6NG
Red For GEMS
On Monday 5 June, 21 students and 4 teachers arrived in Newcastle. They came to GEMS to see what we do and what we learn.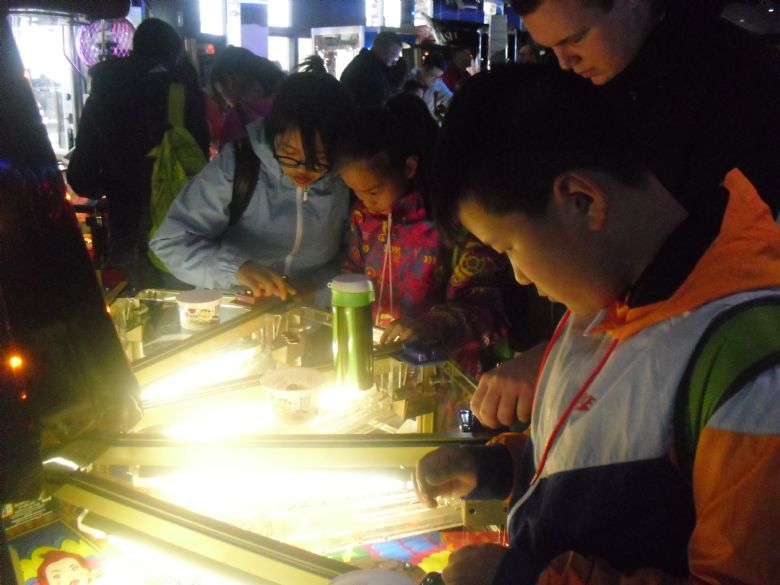 Some of the pupils from Dandi Experimental school at the amusement arcade in Seahouses, Northumberland. In the foreground, Tim.
Day one started with a welcoming assembly with singing of Three Little Birds by Bob Marley. The GEMS pupils wished them all good luck. People were shocked (in a good way) by a Chinese girl – Vivian – who made a speech in English. Some girls flipped past the seated pupils. It was clear by the gasps that the students were amazed.
Dandi Experimental School is located in Shenzen near Hong Kong. It is an important school for educational research.
On Tuesday, two Chinese students joined in some of 6NG lessons, Tim and Tony. They started with English and ended with Computing. After a hard day at school, the students and their buddies went to Pizza Express. Tony thought it was funny when Luke was soaked by a bus passing by.
The next day, all of the Chinese students went on a bike ride around Gosforth. "You have beautiful surroundings around your school," said Jimmy, one of the visiting teachers.
In the days that followed, 6NG got to find more about Tim and Tony. Tim's favourite food was French fries. It all got even better: a trip to Edinburgh, a cinema trip, a trip to the farm and a farewell meal. In Edinburgh, they went to the Royal Mile to get some souvenirs to take back to China.
Teachers and pupils alike got on very well: the GEMS students were thrilled to have Mike playing football with them. This made a huge impact on the GEMS' students.
The visitors left GEMS in floods of tears; they will never forget their time in Newcastle.
Reported by Daniel, 6NG
Shenzhen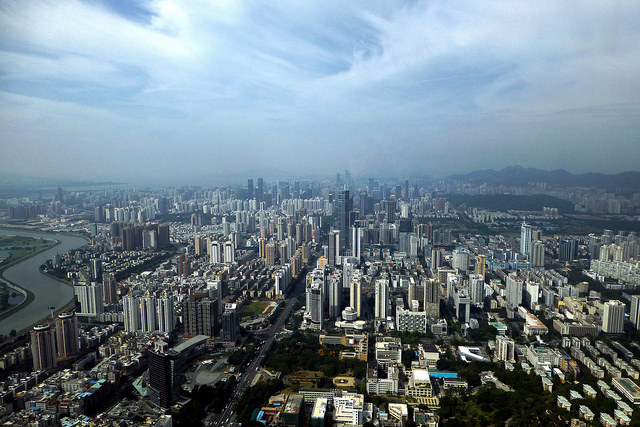 Photo by Chris (dcmaster, used under CC BY-NC-SA 2.0 licence)
Shenzhen is a major city in Guangdong Province (China). In 2016 the population was 11.91 million people, 1,560,000 more than in 2010. This city has become more popular over the years and many languages are spoken there. In some of the languages they speak are Mandarin and English but one of the most popular language is Chinese. 早上好 in English means good morning in Chinese.
They eat a lot of different food in Shenzhen that is eaten in England. Congee is a Chinese food which people eat daily. It is a soup made from rice and other types of vegetables. Chinese stir-fry dishes are very popular in the UK as they are "spicy hot and mouth numbing".
by Grace, 6NG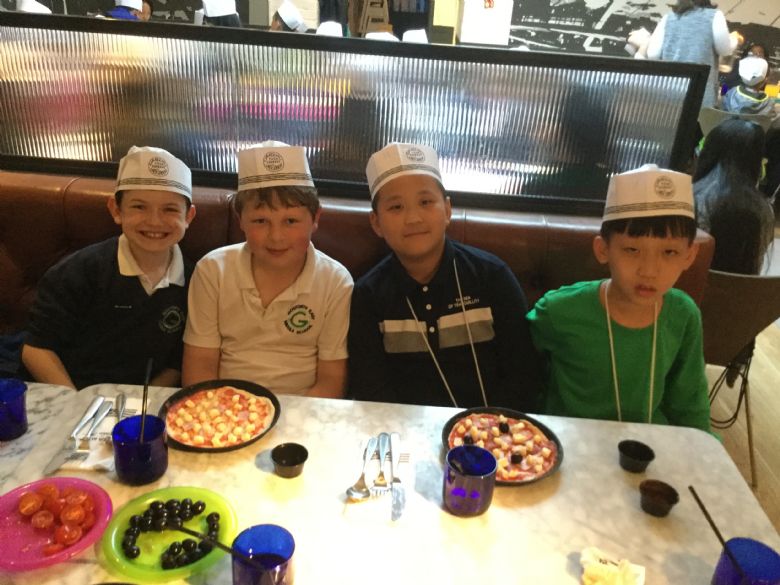 GEMS and Dandi Students at Pizza Express